Ms Nahón confirmed as Argentine ambassador in the US; takes office in February
Wednesday, January 9th 2013 - 05:07 UTC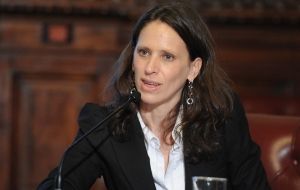 The US government approved the designation of Cecilia Nahón as the next Argentine Ambassador to the US, leading to her official appointment in the post, according to a release from the Foreign Ministry in Buenos Aires.
Nahón, current International Economic Relations secretary at the ministry, will replace Ambassador Jorge Argüello, who was appointed as Argentine Ambassador to Lisbon, Portugal.
The ministry stated in a communiqué that the White House "has approved Cecilia Nahón as the new ambassador," and she will be sworn in on the first week of February.
Ms Nahón is a member of the Cenda think-tank (Centre of Studies for the Development of Argentina), from which have come some of the members of President Cristina Fernandez administration.
She is a personal friend of Axel Kicillof, the Deputy Economy minister who has a growing influence in the Argentine administration. Apparently they belonged to the same militant students' group while at university. Kicillof is said to prefer a blend of Keynes and Marx in political economics.
Ms Nahón is married to an Aerolineas Argentinas manager, Sergio Garcia Gomez and they have two children.
The new ambassador has an Economics degree from the University of Buenos Aires; a Master in Economic Development from the London School of Economics and currently is also involved in teaching and research at the Latinamerican faculty of Social Sciences, FLASCO.
According to political sources Ms Nahón played an active part in the defence of Argentine protectionist measures strongly criticized by other members of the World Trade Organization. She is also part of the team that regularly negotiates trade issues with Brazil. She joined the current Argentine administration in 2010.