US says Chavez succession is an issue for Venezuelans to decide and must include all voices
Wednesday, January 9th 2013 - 05:32 UTC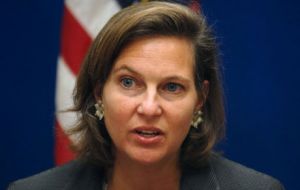 The United States is concerned for the health of President Hugo Chavez and wishing a speedy recovery, but the succession situation in Venezuela "is an issue for Venezuelans to decide" and it should be done in a manner "that includes all the voices in the discussion", said State Department spokesperson Victoria Nuland on Tuesday.
"We have over the course of the last week or so talked in general about the succession situation in Venezuela. Let me reiterate our foundational point, which is that this is an issue for Venezuelans to decide, and it – they need to do it in a manner that includes all the voices in the discussion. So it needs to be a broad-based discussion and it needs to be decided in a manner that is free, fair, transparent, is seen as ensuring a level political playing field in Venezuela", said Ms Nuland.
Regarding President Chavez health condition, Ms Nuladnd said that "obviously we are (monitoring), as we would be for anybody suffering what he is suffering, concerned for his health and wishing a speedy recovery. But in terms of any specific, internal information that we have, I don't have anything to share here".
Further on when asked about Venezuelan authorities call for a massive rally on Thursday, Ms Nuland insisted that discussions in Venezuela "needs to happen peacefully and that there needs to be no resort to violence, no excuse for violence on any side".
Finally Ms Nuland said that no specific warnings have been put out to Americans to avoid Caracas on Thursday rally when President Chavez was supposed to initiate his six year mandate, but won't be attending for medical reasons.
However the State Department spokesperson insisted that "we are closely monitoring the discussion among Venezuelans and hoping it will remain peaceful".
Chavez has been a long time challenger of "US imperialism" (both Democrat and Republican administrations) and has repeatedly accused Washington of trying to remove him from office or conspiring against the Bolivarian revolution leading to 21st century Socialism.
President Obama's administration has been careful in its statements on Venezuela and the current controversy over the taking office ceremony which should take place on Thursday January 10, but as was announced Tuesday will not have re-re-elected Chavez attending because of his cancer post-surgery recovery in Cuba.
"We expect that any transition in Venezuela is democratic, legal, constitutional and transparent", said William Ostick who deals with Latinamerican affairs at the State Department.
Last week Washington admitted that it was holding political talks with both the government of President Chavez and with the Venezuelan opposition.