Argentine tourists must pay 8 pesos for the US dollar in neighbouring countries
Friday, January 11th 2013 - 08:36 UTC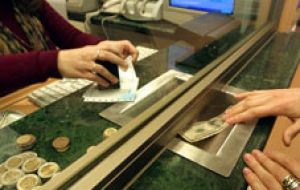 Following on the climbing tendency since the beginning of the year, the 'blue' or 'parallel' US dollar traded in Buenos Aires at 7.25 Argentine Pesos with a 46% gap over the 'official' dollar that remained relatively stable at 4.95 Pesos.
Demand for dollars to travel overseas or neighbouring countries for holidays has stepped up demand for the greenback in Argentina forcing its price up, particularly since the administration of President Cristina Fernandez has put a clamp on dollar free-trading and savings.
To access to the official or 'cheap' dollar buyers must make a formal bureaucratic request through the Central bank and AFIP, the tax revenue office, which after checking the figure and the motive can reject the demand.
"It's the same old story. The 'tourist' dollar works office hours until midday. In the afternoon the AFIP web is blocked until the following day and those who were unable to purchase the tourist dollar or had their request rejected or were only granted a limited amount, move to the streets in search of the 'blue' said a money trader, who added that the whole informal trade has become more ingenious and sophisticated to counter the control measures imposed by government.
"There is an explosion of (Christmas) 'trees' and 'caves' in the City where after sorting several filters you can purchase the dollars you need", revealed the head of a money exchange house, which are forced to work with the Central Bank and AFIP.
But that's not the end of the story for Argentine tourists travelling to neighbouring countries, Uruguay, Brazil and Chile. In effect, changing Argentine Pesos to US dollars or local currencies in any of these countries means paying more than in Buenos Aires's financial centre 'caves": close to 8 Pesos and even higher.
In Uruguay, at the main resort Punta del Este the exchange rate ranges between 7.90 and 8.30 Pesos to the US dollar depending on the place and business.
In Brazil, Argentine tourists must pay a floor of 8.30 Pesos for the dollar; in Chile, 7.90 Pesos and in Paraguay, anywhere from 8.20 to 8.60 Argentine Pesos for the dollar.
This in practical terms means the gap between the 'official' dollar in Argentina (4.95 Pesos) and in neighbouring countries (7.90 to 8.60 Pesos) is well over 70%. To this must be added the fact that in Argentine resorts along the Atlantic coast or in the sierras food and lodging, is considerably cheaper, particularly when compared with Uruguay.