President Mujica calls for unity and peace for 'the day when Chavez is not with us'
Friday, January 11th 2013 - 08:52 UTC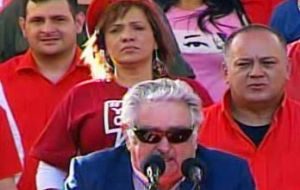 The shortest and most sober of a day of emotional speeches and promises was that from Uruguayan president Jose Mujica who asked the massive rally in support of President Hugo Chavez that if the Venezuelan leader "tomorrow is not with us", then unity, peace and work must prevail.
"I respect above all a man who is battling for life and he is in the heart of all of you; that is what makes sense. But if tomorrow he is not with us, unity, peace and work must prevail my dear comrades", said Mujica on Thursday afternoon.
Mujica who travelled to Caracas on request from the Venezuelan government in his condition of chairman of Mercosur addressed the concentration in support of Chavez from the presidential palace of Miraflores, next to Venezuelan leaders and foreign representatives from Latinamerica and the Caribbean, which also included the presidents of Bolivia, Evo Morales and Daniel Ortega from Nicaragua.
"This afternoon there is an excess of words and when feelings are overwhelming, words are incapable of transmitting them, so I beg you let me shut my mouth because I carry many years on my back and I have seen many demonstrations like this one, and it fills my soul of memories and names of people who are no longer among us", said an emotional Mujica.
He ended his brief message again calling on the people of Venezuela to remain united and in peace in "the event comrade commander Chavez was to depart".