Bluefin tuna opens 2013 with record auction price at Tsukiji: 1.78 million dollars
Saturday, January 12th 2013 - 18:26 UTC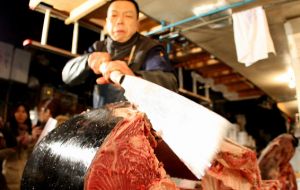 The price of premium "Oma" bluefin tunas has reached a new record: JPY 155.4 million or 1.78 million dollars, in the first auction of 2013 at Tokyo's Tsukiji Fish market, compared to JPY 56.49 million (640.696 dollars) in the first auction of 2012.
A bidding war over the 222-kg tuna ended at JPY 700,000 or 7.939 dollars per kg.
The winning bidder was Kiyomura Corp, which operates the "Sushizanmai" sushi restaurant chain. The company will be serving the fish at its chain restaurants.
"We wanted to meet our customers' wishes to eat the best tuna in the country again," Kiyomura President Kiyoshi Kimura said according to JiJi press reports.
It will go for the chain's regular prices between JPY 128 (1.45 dollars) and JPY 398 (4.51 dollars) per piece of sushi.
"Honestly, the price should be more than JPY 30.000 (340.25 dollars) per piece of sushi," Kimura admitted.
"It was a little bit expensive," said Kimura, The Japan Times reports. "But I hope we can encourage Japan by providing good tuna."
Kimura acknowledged that the price for the fish was a little high, given radiation concerns in nearby waters. In addition, bluefin tunas are facing widespread over-fishing and have been falling in number for at least 15 years in the Pacific, Southern and Atlantic Oceans.
"Everything we're hearing is that there's no good news for the Pacific bluefin," said Amanda Nickson, director of the US-based Pew Environmental Group's global tuna conservation campaign. "We're seeing a very high value fish continue to be over-fished."
Japan consumes 80% of the bluefin tuna caught worldwide. New data on Pacific Ocean bluefin stocks are expected to be released in the next few days.
However the report from Japan also indicates that it is a repeated tradition in the Tsukiji market when taking to auction the first bluefin tuna of the year for buyers to push the price upward to attract media attention and thus gain popularity with the public. The price paid by the first tuna has neither nothing to do with the prices paid by other tuna afterwards, nor form part of any reference price. Therefore, the price paid has nothing to do with the tuna itself.