Methanex Canada to idle plant in Punta Arenas because of insufficient gas provision
Saturday, January 12th 2013 - 17:53 UTC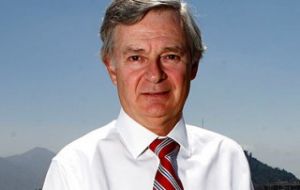 Chilean Energy minister Jorge Bunster regretted on Friday Methanex Canada announcement on its decision to idle operations in Chile in March due to lack of adequate natural gas supply. The company stated that it does not have sufficient feedstock to keep the plant in operation given the natural gas supply challenges.
The company is operating one plant in Punta Arenas, extreme south of Chile at low operating rates and it expects the plant to produce less than 5% of its entire output in 2013.
"We know the that natural gas production in Magallanes region has been declining and the Methanex project is based on an abundant provision of natural gas and they will have to assess the convenience of these operations", said Bunster.
"Obviously we would like them to remain but it will all depend if we can find the necessary production and reserves of natural gas" he added. "Unfortunately we are not an oil or gas producing country".
Methanex released its third-quarter 2012 results in October 2012 and reported adjusted earnings of 38 cents per share in the quarter compared with 43 cents per share registered in the same period last year.
The Vancouver based company continues initiatives to increase production in New Zealand and Medicine Hat units and progress in the Louisiana project, and believes it has the potential to increase its operating capacity by nearly 2 million tons over the next two years.
The company, in November 2012, received the necessary air permits from the State of Louisiana and the Environmental Protection Agency to build and operate its one million ton-methanol project in Louisiana.
The company believes that its healthy financial position, strong global supply network and competitive-cost position will strengthen its position as the global leader in the methanol industry and enable it to continue to deliver incremental returns to shareholders.
But the announcement comes as yet a further blow for Punta Arenas since the methanol complex had become the main industrial investment of the region in the last fifteen years.
"Because of the continued challenges in the provision of natural gas, we estimate we will not have a sufficient supply to keep our plant in Punta Arenas operational during the southern hemisphere winter. Our current expectations are that the operation of our plant in Cabo Negro could be re-launched sometime later in the year", said Methanex corporation CEO John Floren in a release.