Second indigenous teenager in a week murdered in the north east of Argentina
Saturday, January 12th 2013 - 12:19 UTC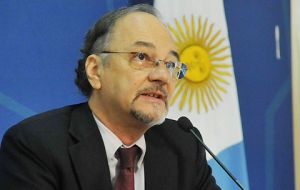 Argentine police are investigating a second murder of a member of the Qom indigenous community in less than a week, after a 16-year old died in a Formosa hospital on Thursday after suffering for four days.
The victim's parents reported the death to police, claiming it to have been caused by a "heavy beating," and affirming the perpetrators were "foreign" to the indigenous community in the north-east of Argentina next to Paraguay.
News of the death came days after a 12-year old Qom child was killed in Villa Río Bermejito, Chaco, and both have been linked to discrimination. Daniel Asijak, who died in the Formosa Central Hospital, was found last Saturday next to his motorcycle and a severe "head wound" lying on the side of Route 86 in the town of La Primavera.
His father, Pablo Asijak, a leading figure in the Formosa Qom community, affirmed: "This was not an accident, I do not believe that."
Asijak directly contradicted a police report that suggested the young man had "managed to communicate to his mother that an accident had caused his wound," and that a witness statement supported such testimony.
Laureano Sangachi, the second leader of the Formosa Qom community, revealed that doctors had said that Daniel had "suffered a beating and had a cranial fracture as result of a hard blow by a rusty piece of metal."
The La Primavera Qom community has been demanding the return of land that was granted by the Gildo Insfrán administration to the National University of Formosa, while a communiqué was released after the murder expressing that the community does not know "how to look after" its members, and demanding "justice and peace."
With regard to the Chaco murder, an element of ethnic discrimination was dismissed by Chaco Lieutenant-Governor Juan Carlos Bacileff Ivanoff, who affirmed "according to the argument of the arrested, a fight was the cause of death. There is no ethnic question here... indigenous populations live in peace with the rest of the community".
The 12 year old Ilmer Ilvencio Flores last January 4 was celebrating summer festivities with several friends but never returned home and his dead body was found the following day with the face totally disfigured in Villa Bermejito a village in Chaco.
"The criminal killed him with a bat" said his uncle Miguel Flores who added Imer was only identified because of a tattoo with a Qom symbol which had also been partially scrapped off.
The death of 12-year old Flores follows on yet another incident in which a ten months old Qom baby and her 49 year old grandmother were run over by a gendarme also in the province of Formosa.
The grandfather who survived the attack claims "it was no accident, it was on purpose" and the gendarme instead of helping, beat him and threatened his life if he filed a complaint on the incident.
"He beat me, he insulted me, he called me f… indian while my grand-daughter was agonizing", claims Ricardo Coyipé a well known activist of Qom rights.
The indigenous population is Argentina according to the latest census is 2.5% but in Chaco and Formosa the percentage in more than double, and their lands are prey of big landlords of the region with support from local police and security forces.