Chavez health 'improving'; top Venezuelan officials meet in Havana with Raul Castro
Monday, January 14th 2013 - 06:58 UTC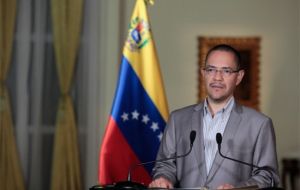 Venezuelan President Hugo Chavez's lung infection has been controlled and his medical state is improving, the government announced on Sunday while four of the most powerful figures gathered in Havana allegedly to report to the cancer-stricken leader and meet with Cuban allies.
They are Vice-president Nicolas Maduro; National assembly president, Diosdado Cabello; Oil Minister Rafael Ramirez and Attorney General, Cilia Flores.
"Despite his delicate state ... in recent days the general medical evolution has been favorable," said the latest official health update. "The respiratory infection is controlled, though the commander-president still requires specific measures to solve breathing insufficiency ... he is conscious."
According to an official report the four leading Venezuelan officials met with Cuban president Raul Castro at the VIP hall of the Jose Marti airport. The report also mentions that on Saturday afternoon the Cuban president said farewell to visiting Argentine and Peruvian presidents, Cristina Fernandez and Ollanta Humala. No details of the issues addressed at the 'Cuban-Venezuela' summit were revealed.
Chavez, who missed his own inauguration for a new, six-year term last week, has not been seen or heard from in public since the surgery over a month ago. "We are all Chavez!" and "Chavez will return!" were among slogans sang and chanted at numerous solidarity rallies, meetings and concerts across Venezuela over the weekend, which drew thousands of passionate and anxious supporters.
Venezuelan state TV on Sunday even split its screen into four to show rallies and masses in churches going around the nation in. Likewise in Cuba, a mass for the Venezuelan president was held at a Catholic Church in Havana on Saturday.
"The situation is complex and delicate," Elias Jaua, a former vice-president and ally of Chavez, told one rally. "He continues battling for his life".
Communications minister Ernesto Villegas said Maduro, whom Chavez has designated his successor, informed his boss of the outpouring at home. But the joint presence of top Venezuelan officials in Havana inevitably deepens rumors that Chavez is at death's door - and draws opposition criticism that Raul and Fidel Castro are giving instructions behind the scenes.
Since the disease was discovered in mid-2011, Chavez has wrongly declared himself cured twice, in an extraordinary and unsettling saga for Venezuela's 29 million people. The stakes are high for the wider region too. Cuba and a handful of other populist-ruled nations have for years been depending on Chavez's aid and oil on long term to bolster fragile economies.
Should Chavez die or be incapacitated, the most likely next step would be an election pitting Maduro, 50, against Henrique Capriles, 40, the main opposition leader who lost to Chavez in an October presidential election.
In an opinion column on Sunday, Capriles railed against the "national paralysis" but said the opposition would not be drawn into confrontation or street protests. That tactic failed spectacularly for them a decade ago when Chavez was briefly toppled but came back stronger than before.
"Just as the president has the right to attend his ill health, so Venezuelans do not deserve urgent problems to be put on hold," Capriles said. "We are not going to play the game of calling people onto the street to create a confrontation that will benefit the violent and radical ones."
Earlier in the day Adan Chavez, the president's eldest brother and governor of the state of Barinas said recovery 'was on track' and strongly denied rumors that the president was in comma and the family discussing when to disconnect him from the intensive care unit.
"Those reports are part of a dirty war campaign from the 'necrophilia' opposition and the Venezuelan media only interested in releasing false statements with the purpose of generating chaos and anxiety", said Adan Chavez