Cubans a little bit more free: restrictions on overseas travel relaxed after 50 years
Monday, January 14th 2013 - 03:28 UTC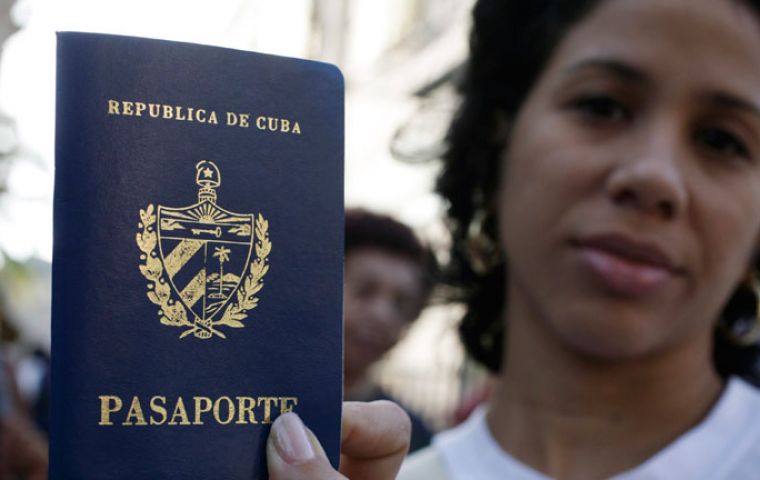 After over half a century, Cuba's new immigration rules that will take effect on January 14 will relax overseas travel restrictions, Havana authorities said. From Tuesday Cubans intending to travel can apply for a passport without the need to present a government permit, known as the White Card, or an invitation letter from abroad, two prior requisites that made travel planning more onerous, according to Cuba's immigration bureau (IND).
Instead, Cubans will only require a passport, a visa from the destination country and travel tickets. As many as 195 passport offices will be operating nationwide, the bureau said. The new law will also extend the period Cubans can stay abroad and allow children under 18 to travel overseas with the permission of their parents or legal guardians.
However, Cuban authorities will retain the right to refuse passports to those deemed risky to public security, national defence or for other reasons, and limit travel by professionals considered "vital" to Cuba, IND said.
The new rules were broadly welcomed by Cubans and their relatives living abroad when they were originally announced on October 16 last year.
The new rules will also eliminate longstanding restrictions on health care professionals' overseas travel.
For many years Cuban doctors have been limited in their ability to travel or had to undergo cumbersome bureaucratic procedures. They are routinely denied permission to travel or receive it only if they plan to leave for good and after a five-year process of being released from their duties.
The restrictions were justified as necessary to prevent brain drain from a sector that is the pride of Cuba's Castro brothers' regime, and which lost thousands of skilled professionals in the 1960s as the country increasingly became a Soviet satellite following he Cuban Revolution.
Other individuals in strategic occupations such as scientists, military officers and athletes have also had a hard time getting permission to travel.