Gibraltar anticipates rough year with Spain because of Treaty of Utrecht 300 years
Monday, January 14th 2013 - 03:21 UTC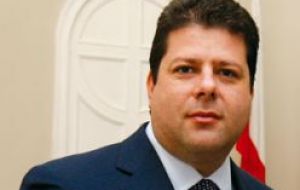 Gibraltar must remain steadfast in its own position on sovereignty the Chief Minister Fabian Picardo has made clear. In a wide-ranging New Year message broadcast last week on GBC Mr Picardo took up the recent remarks made by Spain's ruling party (Partido Popular) and urged them to return to tripartite dialogue as the (opposition) PSOE in Andalucia is also urging.
"Despite – or because of – these economic problems, the Partido Popular government in Madrid has lost no opportunity to attempt to damage our economy and aggressively pursue their claim to our sovereignty relying on the Treaty of Utrecht that will be 300 years old this year," said Mr Picardo.
He said that the PP mayor of Algeciras, Jose Ignacio Landaluce recently made clear that the state of the relationship between Gibraltar and Spain today related "specifically to their policy on how Gibraltar should be treated and nothing else."
"I believe that the politics of attacking Gibraltar's economy at every opportunity, not pursuing the trilateral process for dialogue and now trying to unilaterally rescind parts of the Cordoba agreements will backfire on the Partido Popular and Spain as a whole. Conversely, we and the UK have repeatedly stated that we remain strongly committed to the trilateral process for dialogue," said the Chief Minister.
But he noted that the PSOE Socialist party in Spain has tabled a motion in the Andalucian parliament calling for the PP's policy of confrontation to be abandoned and for the trilateral process to be restarted.
"In partnership with the UK we will ensure that there will be no return to bilateralism over our territory; that there will be no progress by Spain in its attempts to damage our economy; and there will be no advance whatsoever of Spain's claims to sovereignty over our land or our waters."
Mr Picardo also revealed that regulations on fishing, referred to an ongoing controversy with Spain will be published shortly.
In 1704 an Anglo-Dutch force led by Admiral Sir George Rooke captured Gibraltar in 1704 on behalf of the Archduke Charles, pretender to the Spanish Throne. The territory was eventually ceded to Great Britain by Spain in the 1713 Treaty of Utrecht as part of the settlement of the War of the Spanish Succession. In that treaty, Spain ceded to Great Britain "the full and entire propriety of the town and castle of Gibraltar, together with the port, fortifications, and forts thereunto belonging … for ever, without any exception or impediment whatsoever."
Should the British Crown ever wish to relinquish Gibraltar, a reversion clause holds that the territory would first be offered to Spain, "And in case it shall hereafter seem meet to the Crown of Great Britain to grant, sell or by any means to alienate there from the propriety of the said town of Gibraltar, it is hereby agreed and concluded that the preference of having the sale shall always be given to the Crown of Spain before any others."