Twenty million US children, one in four, received food stamps in 2011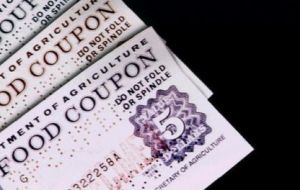 One in four children in the United States participated in the Supplemental Nutrition Assistance Program, or food stamps, in fiscal year 2011, according to data from the United States Department of Agriculture and US Census Bureau.
The USDA "Characteristics of Supplemental Nutrition Assistance Program Households: Fiscal Year 2011" shows that in that year, 19.9 million children, or people under 18, received food stamp benefits. The Census estimates there were 73.9 million children living in the US in 2011, meaning that 26.9% of children, or approximately one in four, were on food stamps in 2011.
The USDA notes that children constituted 45% of SNAP participants in 2011. Some philanthropists and policy experts believe efforts to reform SNAP because of high youth enrollment are misguided, arguing that the program ultimately helps the economy and improve kids' health.
Indeed, the trajectory of the food stamp program has in recent years been up — with spending on the program doubling in the last four years and quadrupling since 2001. Approximately 15.5 million additional recipients have been added to the SNAP rolls since the beginning of 2009.
The most recent national SNAP participation numbers released for the month of October, coming in at 47.5 million participants, or about 1 in 6.5 Americans. In the 1970s, 1 out of every 50 Americans participated in the program.
The new October numbers show a slight decrease from the record 47.7 million reported for the month of September.
However, a study by the US National Poverty Center found tat the food stamps program helped reduce the number of "extremelly poor" children and households by 50% in 2011, when counting the programs' benefits as income. The study broadly defined "extremely poor" households as those earning 2 dollars or less in income per person, per day.