Brazil insists with fresh election in Venezuela if Chavez dies, according to Reuters
Tuesday, January 15th 2013 - 02:54 UTC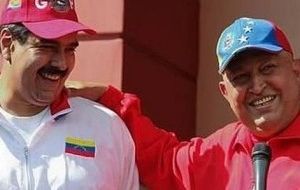 According to a report from Reuters, Brazil is urging Venezuela's government to hold elections as quickly as possible if President Hugo Chavez dies, which in that case would help a smoother leadership transition in Caracas.
Brazilian officials have expressed their wishes directly to Venezuelan Vice President Nicolas Maduro, the officials revealed to Reuters on condition of anonymity. Chavez has designated Maduro as his preferred successor if he loses his battle with cancer.
"We are explicitly saying that if Chavez dies, we would like to see elections as soon as possible," one official said. "We think that's the best way to ensure a peaceful democratic transition, which is Brazil's main desire."
Chavez is in Cuba receiving cancer treatment and he has not been seen in public for a month, prompting speculation that he is near death.
Venezuela's constitution says a new election must be held within 30 days if the president dies. Before leaving for Cuba, Chavez urged Venezuelans to back Maduro should the cancer leave him incapacitated, and Chavez's backers and the opposition appear to be preparing behind the scenes for a possible new vote.
Yet some foreign officials in the region, and some activists in more radical Venezuelan opposition circles, have privately expressed fears that the government could bend the rules if it wants, especially if polls show Maduro might lose.
The Supreme Court's controversial decision to postpone Chavez's inauguration last week reinforced concerns that loopholes could be used to keep the current government in power.
Venezuela's government said Sunday that Chavez's health has improved somewhat, though his lung infection still requires special care.
Brazil's stance on Venezuela is critical because it is by far Latin America's biggest country, it enjoys growing economic and diplomatic clout in the region and 'bent' the rules last June/July when the Paraguayan crisis to allow Venezuela become a full member of Mercosur.
President, Dilma Rousseff is seen as a moderate leader whose party has strongly supported Chavez over the past decade. Yet she is also perceived as neutral and democratic enough to be a credible broker in helping Venezuela to chart a path forward if a political crisis erupts.
The Brazilians have also communicated their desire for quick elections via "emissaries" to main opposition leader Henrique Capriles. By clearly supporting a democratic solution now, they hope to dissuade Capriles and others from inciting civil unrest in the event Chavez dies, the officials said. However Capriles so far has shown a very politically respectful and not challenging approach to the whole issue.
Rousseff led a strong regional backlash last year when Paraguay's Congress impeached and removed then-President Fernando Lugo.
Under Rousseff's predecessor and mentor Lula da Silva, Brazil also took a proactive role in trying to resolve a political crisis in Honduras following the ouster of former President Manuel Zelaya in 2009, although the attempt was not very successful.
Previously, Brazil had been more cautious about taking the lead in regional crises, preferring to emphasize the right of countries to determine their own fates - long the bedrock principle of Brazilian diplomacy.
However when the two-day failed coup and long national strike against Chavez in 2002/2003 the government of Henrique Fernando Cardoso not only openly supported the Venezuelan leader but shipped oil to the country that was running out of fuel because of oil giant PDVSA strike.