Chavez followers and opposition plan to take streets of Caracas on the same day
Tuesday, January 15th 2013 - 06:51 UTC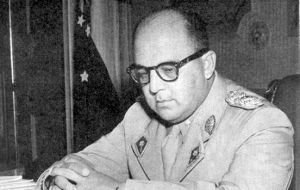 Venezuela's ruling party said on Monday that the 'high command' is receiving instructions from President Hugo Chavez in Havana while its grass roots leaders are organizing a massive rally next week which happens to coincide with a similar march on the same day but to protest and organized by the opposition.
"He's conscious, next to his loved ones and the high political command which is receiving instructions from the commander in chief" said Jorge Rodriguez, mayor of one of Caracas main city councils.
Rodriguez comments follow on reports from Cuba's Gramma saying that the Venezuelan political team met in Havana with the historic leader of the Cuban revolution Fidel Castro and with his brother and president Raul Castro to discuss a recent ALBA-Petrocaribe meeting as well as to analyze bilateral relations.
ALBA and Petrocaribe are two organizations launched by Chavez supposedly to counter US influence in trade and investment and to deliver oil at cheaper terms to Caribbean and Central American countries in exchange for political support.
The Venezuelan high political command includes Vice president Nicolas Maduro, National Assembly president Diosdado Cabello; Attorney General Cilia Flores and Energy minister and president of PDVSA, Rafael Ramirez.
Rodriguez also mentioned that on 23 January "the revolution forces are going to take the streets of Caracas. We are going to converge from the four cardinal points in support of Chavez and the constitution".
On that day but in 1958 came to an end the dictatorship of Marcos Perez Jimenez, the last in recent history of Venezuela, and for that motive the opposition had also anticipated a massive outpouring to the streets to protest the Supreme Court's ruling in support of the continuity of the current regime and delay of the taking office oath, despite the fact the new mandate of Chavez should have taken place last 10 January.
"We are inviting our people to take the streets but orderly with the peaceful attitude we all deserve" said Rodriguez who anticipated that the march would end with a great concentration in the Parish January 23, considered a bastion of Chavez support.
But the opposition was not happy. "I think that by organizing a similar rally to ours what they are doing is promote confrontation and irritation which at this moment is absent from the feelings of Venezuelans", said opposition lawmaker Tomas Guanipa.
This means that next mid week supporters of Chavez and those opposing his regime will coincide in the streets of Caracas in the framework of the political situation generated by the Venezuelan leader's absence and his combat against cancer after undergoing the fourth surgery in 18 months a month ago, and with no precise details of what type and where it is located.