Cuba admits 51 cholera cases in Havana; travel warnings from UK and US
Tuesday, January 15th 2013 - 22:00 UTC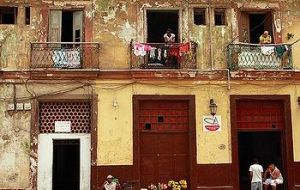 Cuba's Public Health Ministry on Tuesday acknowledged 51 new cases of cholera in the capital Havana amid growing concerns about the illness' spread and disappointment in the diplomatic community over the government's lack of transparency.
The ministry said nobody had died from the latest outbreak, which began January 6, and stressed that preventive measures already taken had put the disease "on the way to extinction." It said cholera was first detected in the capital's Cerro neighborhood, and then spread elsewhere. No other areas of the capital were mentioned, but there have been reports of cases in the leafy Playa neighborhood that is home to many foreign embassies.
The government has not responded to repeated requests for comment in recent months, nor has it made any experts available to talk about the cholera situation.
Cholera is a waterborne disease caused by a bacteria found in tainted water or food. It can kill within hours through dehydration, but is treatable if caught in time. Cholera is unusual in Cuba. But recent outbreaks in nearby Haiti have killed more than 7,200 people.
Last August, Cuba announced that a cholera outbreak had run its course after sickening 417 people and leaving three dead. That outbreak originated in the eastern city of Manzanillo, in Granma province. Some have speculated the epidemic gained new life following the widespread devastation caused in October by Hurricane Sandy, which damaged more than 200,000 homes in eastern Cuba.
According to Public Health sources, some hospitals are overflowing and rooms for cholera patients have been opened in several health centers. Cerro residents assured that the Muñoz Ward at the Salvador Allende Hospital is now exclusively for cholera patients.
Cerro, a municipality located in the center of the city, was the starting point and the area most affected, but the ailment was already expanding to other parts of the capital, said a doctor who preferred to remain anonymous.
The directors of several hospitals reportedly met with Civil Defense head General Ramon Pardo to coordinate actions in the face of the spread of the disease that reappeared in Cuba last year after a century of it having been eradicated.
In the affected municipalities, health care personnel are distributing three antibiotics that theoretically immunize people against cholera.
Although the presence of cholera and dengue was confirmed by health care personnel who work directly in combating both diseases it is difficult to determine its true magnitude; if these are just outbreaks in specifically localized areas, or if this can be considered an epidemic.
On Tuesday, the British Embassy in Havana issued a travel advisory in response to the cholera reports, urging its citizens to take "sensible precautions" and seek immediate medical attention for diarrhea. US diplomats on the island issued a travel warning Monday urging American citizens to follow local health recommendations.
Tourism is the top sector in Cuba's flagging Communist economy, with 2.8 million visitors a year and about 2.5 billion dollars in annual revenue. A major cholera outbreak is sure to make some visitors think twice about a trip, despite Cuba's sterling reputation in responding to epidemics and natural disasters.
The island has a well-organized civil defense system capable of rapidly mobilizing government agencies and citizens groups. Brigades of workers go door to door, noisily fumigating homes and admonishing residents to eliminate standing water where mosquitoes bearing another tropical disease, dengue, could breed.
Tuesday's Public Health Ministry statement carried in the Communist Party newspaper Granma and elsewhere made no mention of any cholera cases reported outside Havana.