Uruguay's growth estimates for this year, 3.86%, according to private estimates
Thursday, January 17th 2013 - 22:02 UTC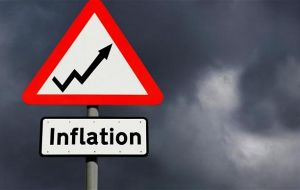 Private analysts lowered their forecasts for Uruguay's GDP growth this year from an average of 4% in December to 3.86%, according to the latest monthly survey on economic expectations released by the Central Bank. Expectations for January ranged between 3.2% and 4%.

Analysts will have to wait to March to have the definitive figures on the 2012 performance of the Uruguayan economy when the bank makes the final release. Nevertheless January estimates stand at 3.7% which is slightly above the December survey estimate of 3.6%.

Regarding inflation expectations the survey showed that for the twelve months of 2013, it should stand in the range of 7.5%, compared to the December survey estimate of 7.6%.

The 7.5% would be above the 7.48% of 2012, obtained after an extraordinary negative December minus 0.73% inflation, based on cheaper power rates provided by the government's energy monopoly. This year promises to be lower than in 2011 with 8.6% but far from the Central bank target of 4% to 6%. The January survey had a maximum expectation of 8.4% and the lowest was 7%.

As to January's inflation private estimates from some the main consultants indicate an average of 1.1% with a maximum of 1.5% and minimum of 0.8%. However there could be surprises (as in December with power rates) if the government fuels monopoly decides to lower the price of gasoline and diesel.

Regarding the fiscal deficit, estimates were hiked strongly both for 2012 and 2013. For last year, estimates were up to 2.6% (from 2.31%) of GDP and forecasts for this year ranged from 1.75% to 2.19% of GDP. The maximum forecast for 2013 was 2.3% and the minimum, 1%. As to this year the range is between 2.7% and 1.3% of GDP.

Finally new jobs: private analysts' estimates remain unchanged with a slight decrease compared to 2012.