Europe the "most desired strategic partner" of Latinamerica, according to Spanish report
Tuesday, January 22nd 2013 - 05:19 UTC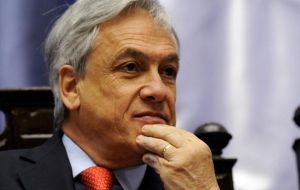 The European Union is the "most desired strategic partner" of Latinamerica, although with different intensity, according to a report from the International Prospective Institute, IPI, released on Monday in Madrid and ahead of the coming EU/CELAC summit in Santiago de Chile.
CELAC stands for Community of Latin American and Caribbean States, and is to a great extent the brainchild of Venezuelan president Hugo Chavez.
The governments of Colombia, Costa Rica, Cuba, El Salvador, Honduras and the Dominica Republic are "intensely inclined towards the EU" while Brazil, Chile, Mexico, Paraguay and Peru show "sufficient interest", according to the report.
But a step lower and still "with interest" towards the EU figure the governments of Argentina, Bolivia, Haiti, Nicaragua and Panama. However the presidential offices from Ecuador, Guatemala, Uruguay and Venezuela "are not looking towards the EU" as the most desired partner, underlines the IPI report.
The research also shows that it is precisely in these four countries where the opposition is "intensely inclined towards an alliance with the EU", although opposition in Colombia and Cuba are not that convinced.
Corporations and the media overall in Latinamerica are even more inclined to an alliance with the European Union than their governments.
But there are exceptions: corporations in Colombia, El Salvador, Guatemala and Uruguay and the media from Panama and Paraguay.
But Latin American citizens by an ample margin favour that the EU becomes the main strategic reference for the region, while the exceptions are Bolivia, El Salvador, Guatemala, Paraguay and Panama.
Heads of State and of government from CELAC and the EU are meeting in Santiago on the 26 and 25 of January to try and give a greater thrust to a strategic relation between the two regions.
On the sidelines of the summit there will be a meeting of Mercosur leaders to assess the current stalled negotiations with the EU.
The data and conclusions of the report are the result of surveys from the IPI web and EFE news agency delegates in Latin American countries. The report is based on the Mapi methodology which consists in polling multiple and different experts in different fields with proven knowledge of the scenario under consideration and which do not know each other so as to reach a wide panorama diagnosis of the situation.