HMS Protector rescues cruise liner at risk of becoming trapped in Antarctica ice
Tuesday, January 22nd 2013 - 20:52 UTC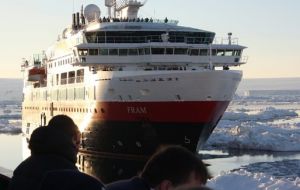 A Norwegian cruise liner at risk of becoming trapped in thick ice off the coast of Antarctica was guided to safety by the Royal Navy in a two-hour operation, an incident which occurred a week ago and has only emerged.
Ice breaker HMS Protector broke through the densely packed ice which had surrounded the MV Fram, blocking her path and trapping the bow, as she carried passengers through the Antarctic Sound.
The cruise vessel with 202 passengers had been following the patrol ship through the gaps in the pack ice when she was surrounded by a number of fast moving floes. HMS Protector immediately turned back to help, approaching the Fram from astern and breaking up the ice – which was up to four metres thick. Taking just over two hours at speeds of just two knots, the Fram was eventually released and led to safety.
Commanding Officer of HMS Protector, Captain Peter Sparkes, said: "This is what we do in the Ice Patrol Ship, we are the Royal Navy's equivalent of a Swiss Army Knife – red, versatile and always there when you need us.
"Protector's ship's company are highly trained and well equipped to deal with a spectrum of operations in Antarctica. That we are able to do so, so readily, is a clear demonstration of the Royal Navy's global reach and operational preparedness."
Sub Lieutenant Rowland Stacey of the Royal Canadian Navy, currently on exchange with Royal Navy and serving with HMS Protector, said: "This was an extremely impressive feat - operations in ice can be very challenging, but HMS Protector made it look easy. I am delighted to be a part of this team."
Ice conditions in Antarctica are extremely variable and subject to the vagaries of the continent's wind and local currents. Ships can quickly become beset when the concentration of pack ice increases, which is often very quick. Once they are trapped, ships may have to wait for days, or even weeks, to escape.
Cruise company Hurtigruten released the following statement: "On 13-14 January, Hurtigurten's ship MS Fram had decided not to sail to one of its landing points of Brown Bluff in Antarctica as the ice conditions in the area that day were challenging. However, our reports state that HMS Protector was sailing in the area and they offered assistance to MS Fram so that the ship could sail to Brown Bluff. The ship was therefore escorted in and out of Brown Bluff by HMS Protector. This was a friendly gesture between two ships who are all part of the same 'family' when sailing in the remote areas of Antarctica"
MS Fram is a specially-built polar expedition ship with an ice-strengthened hull. The ship was on its 6th annual 66-day tour to Antarctica, where it spends each (boreal) winter.
HMS Protector is continuing with her patrol of the British Antarctic Territory, supporting an embarked International inspection team's surveys of environmentally sensitive sites around the Peninsula.
The ship, which serves as the UK's Sovereign presence in Antarctica, will complete three further five-week patrols of the continent before heading north at the beginning of April and the onset of the Austral Winter. (MOD News/MP)