Falklands make £8m transfer to "Oil Development Reserve", future sovereign wealth fund
Friday, January 25th 2013 - 05:43 UTC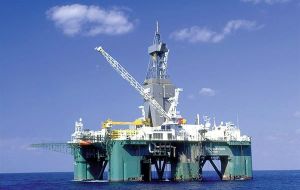 The government of the Falkland Islands has made a transfer of over 8 million pounds (£ 8.274 million) to the new Oil Development Reserve, a first step towards a 'Sovereign Wealth Fund' based on the Norwegian model it was explained at this week's meeting of the Standing Finance Committee.
The Falkland Islands Government (FIG) was showing a surplus of £3.910 million compared to a revised budget surplus of £3.515 million, a favourable performance of £0.395 million in first six months of the 2012/13 financial year.
This appeared less than anticipated, explained the FIG Management Accountant, due to the transfer of oil related taxation receipts to the Reserve.
The Reserve forms a separate part of the Consolidated Fund and the intention is for the first call on this Reserve to be for projects and funding which will encourage the development of oil and ensure that the Falkland Islands is ready for further development.
Under Operating Revenue, taxation revenues for the first two quarters of the year came in at £7.548 million above estimate, predominantly due to higher taxation receipts from oil exploration than were projected in the original budget.
Corporation tax receipts from local companies were also higher than anticipated.
The Department of Natural Resources was £119,000 favourable due to revenues at FIPASS in excess of the amounts projected in three areas, primarily due to the oil exploration work underway (berthing fees, water sales and rent).
Health and Education was £450,000 favourable due to unanticipated Medical Service Tax receipts of £452,000, mainly from individuals working within the oil industry and Central Services was £91,000 favourable based on extra revenue from Stanley Airport due to use by the oil industry, strong stamp sales in the Philatelic Bureau and FIGAS flight revenue, possibly driven by increased traffic relating to the 30th anniversary of the 1982 war.
FIG operating expenditure was around £1.1 million favourable and under Capital Expenditure, capital schemes were currently behind schedule by £5.853 million.
This was described as partially down to highways projects, however, spend was expected to accelerate in the second half of the year.
Infrastructure development was also behind schedule (primarily at Sapper Hill) however, this position was also expected to recover later in the year. (Penguin News).