IMF: Latam growth estimates contained because of Brazil's poor performance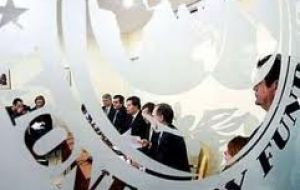 The IMF downgraded growth estimates for Latinamerica in 2013 from 3.9% to 3.6%, mainly because of an anticipated poor showing of the region's largest economy Brazil, according to the Fund's latest report on the world economy prospects.
Brazil's performance is expected to be 3.5%, which is 0.4 percentage points less that the previous IMF report from October. But overall the Latam economy in 2013 and 2014 will be strong compared to last year when the region expanded 3%, which was below the 4.5% of 2011.
The Fund also forecasts that the Brazilian economy will spike to reach 4% in 2014, which is 0.2 percentage points below October's estimate.
Mexico, the region's second economy is expected to expand 3.5% both this year and in 2014, unchanged from October. The IMF points out that the report has updated data both on Brazil and Mexico and the region as a whole, but warns that the rebound will not reach the levels of 2010 and 2011.
"The weakness of the advanced economies will contract foreign demand as well as trade with commodities, the heart of the region's exports, and now exposed to lower prices this year".
"Besides, says the report, the space for more monetary flexibility has reduced considerably" and certain degree of uncertainty has had a negative growth impact for economies such as Brazil's or India's".
IMF anticipates that Brazil must address problems such as inflation and low productivity, while is has appealed to macro-economic measures to help control the inflow of foreign capital to face commodities prices volatility.
Latam's largest economy according to the Fund closed 2012 with growth in the range of 1%, following on the 2.7% of 2011. As to Mexico, 2013 and 2014 will be years of certain moderation compared to 2012r with 3.8% and slightly below the 3.9% of 2011.