Lagarde surprised at the 'very slow' recovery of the Brazilian economy
Saturday, January 26th 2013 - 21:23 UTC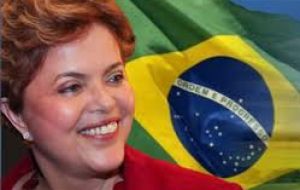 IMF Managing Director Christine Lagarde said she is unsure about Brazil's economic outlook despite the country's official estimate of 3.5% growth this year, since recovery is "very slow" as the 1% of 2012 showed.
"I don't understand why Brazil's growth recovery rhythm is taking so long", Lagarde was quoted by the Brazilian media covering the Davos World Economic Forum.
"Maybe the slow Brazilian recovery is because the country is going through a strong adjustment phase" admitted the IMF chief in an interview with Folha de Sao Paulo in the sidelines of the economic forum which brings together world leaders from politics and corporations.
But Lagarde is not the only official expressing concern about Brazil's slow take-off. Charles Dallara, managing director of the Institute of International Finance said many of the world's largest banks have expressed concerns about Brazil and suggested the execution of 'structural reforms' to unlock growth believing the country is expanding below its potential.
But such measures are not expected to occur in the next months since the country is currently in a pre-electoral period, ahead of the 2014 presidential election when President Dilma Rousseff is expected to bid for another four years.
Italian Prime Minister Mario Monti said he believed the financial crisis in Europe is partly responsible for Brazil's low economic growth as the EU is a key market playing a fundamental role in Brazilian exports.
Last week in a political rally President Rousseff pledged that 2013 would see Brazil experience sustained growth and will be the year to harvest the efforts of 2012 when the economy only managed to expand 1%, according to primary estimates since final figures are still pending.
Government officials are avoiding advancing any precise percentages but admitting that the economy this year should expand in the range of 4%, while the IMF estimates 3.5% and the latest Central bank survey among the leading corporations and CEO anticipates 3.29%.