Major summit in Santiago with inverted roles: EU knocks on the door of Latam
Saturday, January 26th 2013 - 20:59 UTC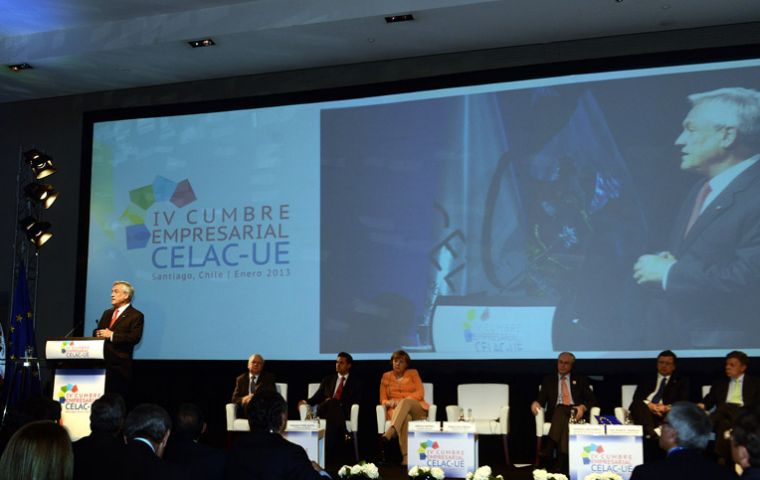 Representatives from sixty countries begin Saturday in Santiago de Chile the two day summit which breaks with recent tradition: Latin American countries, full of economic confidence, are hosting their European partners and are expected to volunteer to help with Europe's economic problems.
The seventh summit between the European Union and Latin American and Caribbean nations since 1999 is also the first in which the Latin American countries will meet with European partners under their newly-formed grouping, the Community of Caribbean and Latin American States (CELAC), created in late 2011.
Forty odd leaders are expected to attend the gathering, including German Chancellor Angela Merkel, Spanish Prime Minister Mariano Rajoy, and European Commission President Jose Manuel Durao Barroso, EU Foreign affairs and security commissioner Catherine Ashton and Heman Van Rumpey president of the European Council.
From Latin America, presidents Dilma Rousseff of Brazil, Enrique Pena Nieto of Mexico and Raul Castro of Cuba are some of the outstanding names to attend.
There will be a few conspicuous absences. Outspoken Venezuelan President Hugo Chavez is recovering from cancer surgery and is to be represented by Vice President Nicolas Maduro. Ecuadorian President Rafael Correa is currently on leave to campaign for re-election next month.
The summit theme is "Alliance for Sustainable Development: Promoting Investments of Social and Environmental Quality," and it will feature the European Union in a search for new markets and fresh funds, immersed as it is in a serious financial crisis.
"Our longstanding partnership with Latin American and Caribbean countries is based on the conviction that both sides have common interests in today's inter-dependent world and greatly benefit from working together", Barroso said ahead of the gathering.
Perhaps more than ever before, there is a sense that both regions stand to gain from a partnership.
"The region is integrating itself in the world, reducing poverty, creating jobs despite the global crisis. So we hope to launch a new era in relations with Europe, one that is less based on aid or assistance and that is more based on co-operation and equality" said Chilean President Sebastian Piñera.
Europe provides 43% of all foreign investment in Latin America and the Caribbean and is "by far the largest investor in those countries," Christian Leffler, a senior EU diplomat for the Americas, said.
In fact, European investments in Latin America and the Caribbean exceed the sum of European investments in Russia, China and India together the official noted.
"European actors are very important for the Latin American economies — and the Latin American economies have become even more important to Europe," Leffler said.
Not so long ago, it was Latin America that courted European investors to boost its stagnant growth.
These days, it is European investors that actively attempt to carve out a bigger space for themselves across the Atlantic, in a fast-growing region led by new global giant Brazil. The competition is tough as other big players of the world economy, most notably China, are also lobbying for a share of the pie.
Europeans will further seek investment from Latin America, in a changed world in which the wealthiest man, according to Forbes magazine, is Mexican telecommunications tycoon Carlos Slim.
The Old World has some concerns about this contemporary scenario, and in Santiago it will seek legal certainty for its businesses, among other pursuits. Last year saw major transatlantic controversies, for example, as Argentina nationalised YPF, which belonged to Spain's Repsol. Bolivia did the same with a local subsidiary of Spain's Red Electrica.
Other thorny issues such as protectionism and subsidies are expected to be discussed.
The 60 countries coming together in Santiago have a combined population of 1.1 billion.
It will also be a rare chance to see Cuban President Castro, who is generally not fond of such events but actively supports CELAC as a forum for the Americas without the United States and Canada, in a major international stage.