Cuba takes CELAC chair on Monday; expectations regarding Havana's proposals
Monday, January 28th 2013 - 06:08 UTC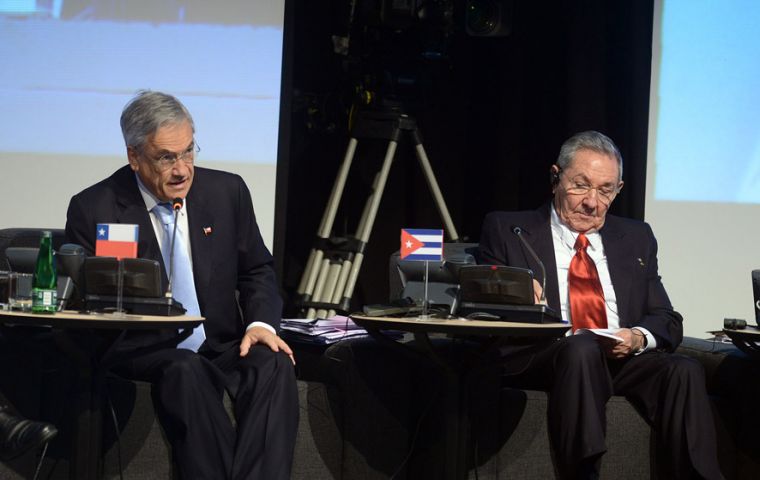 The first summit of the Community of Latinamerican and Caribbean States, CELAC, the brain child of president Hugo Chavez, paid tribute to the Venezuelan leader who is recovering from cancer surgery in Havana, Cuba, the country that on Monday will be receiving the group's chair from Chile.
"We are all wishing the best so that he win this battle, probably the hardest battle of his life", said Chile's conservative president Sebastian Piñera on Sunday during the opening of the CELAC summit which brings together all countries from the Americas and Caribbean with the exception of the US and Canada.
"Chavez is a president that has had a deep impact in the regional organization", said Piñera praising the Venezuelan leader.
However there were some absences at the CELAC summit: Dilma Rousseff cut short her stay in Chile to return to Brazil because of the tragedy that killed at least 233 people in a disco fire Sunday early morning; Ecuador's fiery Rafael Correa is on leave campaigning for re-election next month; Paraguay's Federico Franco, whose country has been suspended from Mercosur and Unasur following the congressional impeachment and removal of Fernando Lugo.
The meeting is scheduled to finish Monday when Chile formally delivers Cuba the chair of CELAC. There are great expectations as to which could be the proposals from Cuba for an organization recently created but which includes all Latam and Caribbean countries and has already been recognized by the European Union.
On Monday also Venezuela's Vice-president Nicolas Maduro is expected to deliver CELAC leaders a hand written letter from Hugo Chavez, according to the official spokesperson from the Venezuelan government, Ernesto Villegas.
The summit in Santiago was an opportunity for other regional blocks to meet. Mercosur is expected to make some announcement regarding trade and cooperation discussions with the EU, while on Sunday the so called Pacific Alliance (Mexico, Colombia, Peru and Chile) held a mini summit and agreed on their next summit in April in the Colombian city of Cali.