Falklands' Battle century commemoration includes an invitation to the German Navy
Monday, January 28th 2013 - 16:57 UTC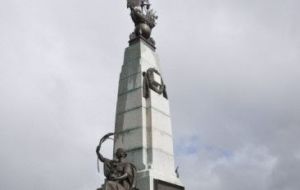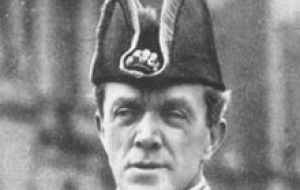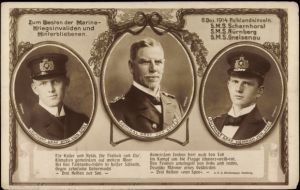 A committee has been formed to organize the commemoration of the Battles of Coronel and the Falklands in 1914, two decisive events of the First World War which although occurred in the Southern hemisphere had a full impact in the European conflict.Last week some twenty people met in the Parish Hall of the Falkalnds' capital, Stanley to address the issue under the chairmanship of Phyl Rendell.
Apart from agreeing the name of the new committee and asking Norman Clark to supervise the design of a logo incorporating the map of the Falklands and the ensigns of the Royal and Imperial German navies, a number of other proposals were listed, including a museum exhibit, the production of an informative good quality brochure and a web page.
The proposal for a special committee ahead of the century commemoration was an initiative from Falklands' born marine archaeologist Mensum Bound.
With four Members of the Legislative Assembly attending both meetings held so far, the Committee noted that there was excellent support for the commemoration from the Falkland Islands government.
This would be needed for funding and for some of the actions planned such as an invitation to the German Navy to participate in the commemoration.
Depending on available funds, special guests suggested included Admiral Sturdee's descendant, the current Graf von Spee, the Mayor of Coronel city and senior members of the British and German navies.
It was proposed that writing, art and poetry competitions should be held in the two Stanley schools, with prizes to be awarded by the special guests.
A silent black and white film depicting the Battle of the Falklands is still in existence and all members supported a proposal that it should be acquired, if possible, for screening during the week of the commemoration.
Mensun Bound was also tasked to discuss a possible Falklands themed documentary on the two battles with producer Matthew Worman.
The Battle of Coronel took place on 1 November 1914 off the coast of central Chile near the city of Coronel. German imperial navy forces led by Vice-Admiral Graf Maximilian von Spee met and defeated a Royal Navy squadron commanded by Rear-Admiral Sir Christopher Cradock.
The engagement probably took place as a result of a series of misunderstandings. Neither admiral expected to meet the other in full force. Once the two met, Cradock understood his orders were to fight to the end, despite the odds heavily against him. Although von Spee had an easy victory, destroying two enemy armoured cruisers for just three men injured, the engagement also cost him half his supply of ammunition, which was impossible to replace.
Shock at the British losses led to an immediate reaction and the sending of more ships which in turn destroyed von Spee and the majority of his squadron at the Battle of the Falkland Islands in December 1914.
The British squadron was under the command of Vice-Admiral Doveton Sturdee who had been named Commander in Chief South Atlantic and Pacific. (PN/MP)