US Republican congressman visits the Falklands starting Monday
Monday, January 28th 2013 - 04:22 UTC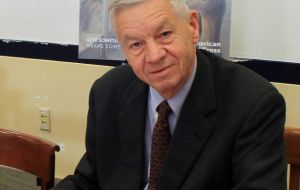 United States Republican Congressman Thomas Petri will visit the Falkland Islands from Monday 28 January 28 to February 2 accompanied by a group of congressional staff members.
Congressman Petri represents Wisconsin's 6th Congressional District, and is serving his seventeenth term in the US House of Representatives.
First elected in April 1979, Congressman Petri has been returned to office every two years since.
He is a current member of both the Transportation and Infrastructure Committee and the Committee on Education and the Workforce.
He is also a current member and former Chairman of the House British-American Parliamentary Group, an official organisation formed to strengthen relations with the British Parliament.
During their stay, they will be meeting with members of the Legislative Assembly and senior Falkland Islands Government officers, as well as Tourist Board staff and members of the Chamber of Commerce.
They will experience Sea Lion Island for a night, and visit the schools and other government departments.
This visit follows on from the very successful visit of Republican congressman Jim Sensenbrenner last year said a spokesperson for Gilbert House.