Raul Castro assumes CELAC chair calling for integration and independence from the US
Tuesday, January 29th 2013 - 06:05 UTC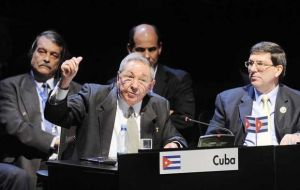 Cuba formally assumed Monday the presidency of the Community of Latinamerican and Caribbean States during the group's summit in Chile calling for regional integration and independence from the United States.
Cuban President Raul Castro hailed the move as "a great honour" and "recognition of the determined struggle of our people for independence" despite the US crippling embargo of over half a century.
The Cuban chairmanship of the CELAC marked Havana's full regional reintegration and was seen as a major diplomatic coup for the Castro brothers' regime. Castro described the grouping of "33 independent nations as a space of regional sovereignty to promote integration, dialogue, cooperation and solidarity".
"We will reject interference, aggression, threats and the use of force," he said as he took over the CELA chairmanship from his Chilean counterpart Sebastian Piñera shortly before the 24-hour summit closed.
Several CELAC leaders hailed the Cuban presidency.
Argentine President Cristina Fernandez on Sunday said it was a sign of the "changing times". Her US-backed Colombian counterpart Juan Manuel Santos on Monday described it as a "very significant political development with special symbolism".
"We are building the ideal of a diverse Latin American and Caribbean region united in a common space of political independence and sovereignty over our enormous natural resources to advance toward sustainable development, regional integration," the 81-year-old Cuban leader told the summit.
Castro also seized the occasion to warn the region that "trans-national corporations, basically Americans, will not renounce their control over strategic energy, water and mineral resources nearing depletion."
In another dig at Washington, he said "our community will not be complete without Puerto Rico, a truly Latin American and Caribbean sister nation submitted to (US) colonial domination." Puerto Rico is a self-governing US possession.
And he expressed gratitude for the region's support for Argentine sovereignty over the British-ruled Falklands/Malvinas and its opposition to the US trade embargo on Cuba.
In a balancing act agreed in Caracas when CELAC was created, Cuba assumes the presidency for the first year of a two year period and Costa Rica the second.
Earlier Monday, Piñera paid tribute to Venezuela's Hugo Chavez, but also to former presidents Lula da Silva of Brazil and Felipe Calderon of Mexico "for their vision and leadership" in helping create CELAC.
Sunday, CELAC leaders opened their summit focused on forging greater regional integration, immediately after wrapping up talks with their counterparts from the European Union.
In closing remarks at the EU-CELAC meeting, European Council President Herman van Rompuy said the "discussions have given new energy and momentum to our strategic partnership."
And Piñera lauded a "new strategic alliance" with the EU "to promote growth, create jobs and improve the quality of life" for citizens.