South Falklands gas condensate discovery in 'technically and commercially viable"
Tuesday, January 29th 2013 - 03:42 UTC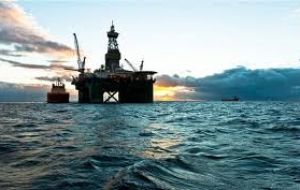 Hydrocarbons exploration company Borders and Southern Petroleum announced on Monday that the development of its gas condensate discovery in the Falkland Islands is commercially viable. B&S made its Darwin (East-West) discovery in April and has been carrying out tests to determine the nature of its find.
Initial studies showed that developing the discovery of the condensate, a liquid form of gas that trades at a premium to natural gas, was both technically and commercially feasible, the company said on Monday, boosting its shares by 12.5% to 27.37 pence in early trading.
More drilling needs to be done before it will be able to proceed with any project, B&S said, adding that development will cost between 1.6 billion and 3.8 billion dollars.
Any development by Borders would represent the islands' second hydrocarbon project.
B&S estimates the size of its discovery at 190 million barrels. The company said it was seeking a partner prior to the next drilling period and has opened a data room for interested parties.
"We believe that the study confirms our view that Darwin is a commercial standalone development, viable with existing technology. In our view, Darwin will attract significant industry interest," Numis analyst Sanjeev Bahl said.
For an oil or gas development in the remote Falkland Islands in the South Atlantic to make economic sense, large quantities need to be discovered. The company said the next step is to prove the extent of recoverable volumes with appraisal drilling and to confirm the predicted flow rates with a well test.
A 1.6 billion-plus dollars project for a company with a market capitalisation of about 130 million pounds (205.million dollars) is likely to need to be developed alongside a partner.
The appraisal drilling is seen as relatively low-risk, B&S said, and it is already looking to hire a drilling rig.
B&S operates and has a 100% interest in three Production Licences in the South Falkland Basin covering an area of nearly 10.000 square kilometres. The Company has acquired 2.862 km of 2D seismic, 1.492 square kilometres of 3D seismic and drilled two exploration wells making a gas condensate discovery with its first well.
B&S said that in the fourth quarter it commissioned E & P, part of the ThyssenKrupp Group, to undertake a screening feasibility study. The objectives were to determine if the development of Darwin East and West would be technically viable and to provide some high level cost estimates for an economic model. The conclusion of the study was that Darwin East and Darwin West are technically viable as stand alone developments, phased developments or combined in parallel development. Despite a relatively harsh environment and lack of local infrastructure, there is sufficient confidence in current proven technology to develop the discovery.
The study concluded that the most likely development option would be sub-sea wells tied back to an FPSO for processing and storage of the condensate whilst re-injecting gas back into the reservoir to maximise liquids recovery. The integral storage offered by an FPSO allows condensate to be offloaded to shuttle tankers for export. It has been estimated that a development of this type would take three years from project sanction to first production.
B&S Chief Executive Howard Obee said he was delighted with the Company's progress to date and extremely grateful to all those that have contributed to success.
"We have a portfolio containing a very attractive discovery along with an exploration prospect inventory of quality and depth. The Company is now moving into an exciting new phase, as we look to appraise the discovery and add to the discovered resources through further exploration".
Oil found to the north of the Falklands by Rockhopper Exploration is due to start pumping in four years time as part of a 1 billion dollars partnership between the company and Premier Oil.