Brazil committed to CELAC and to all regional and subregional integration groups
Wednesday, January 30th 2013 - 06:39 UTC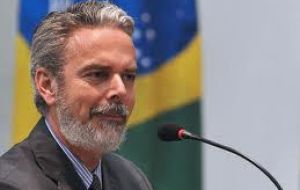 Brazil said Latinamerica and Caribbean cohesion does not only mean strengthening CELAC (Community of Latinamerican and Caribbean States) but also advancing in the other integration processes of the region.
"The cohesion of Latinamerica and the Caribbean means the gradual strengthening of CELAC but at the same time demands revaluing the regional and subregional integration processes that can achieve a deeper integration in a much shorter time", said Foreign minister Antonio Patriota.
Patriota on Monday addressed the CELAC summit since President Dilma Rousseff had to fly back to Brazil because of the Santa Maria disco tragedy that killed at least 240 students.
Besides CELAC, Brazil belongs to Mercosur and Unasur while in the region there are other integration mechanisms such as the Alliance of the Pacific, the Andean Community, the Central American Integration System (SICA) and the Caribbean Community, Caricom.
"Strength resides both in that which unites us as well as in the enormous diversity", said Patriota referring to CELAC which for the next twelve months with be presided by Cuba and on the second year by Costa Rica.
Patriota also paid homage to several former presidents, Felipe Calderon from Mexico; Leonel Fernandez from Dominican Republic, Hugo Chavez from Venezuela and Lula da Silva, whom were the great promoters of what is now CELAC.
Patriota said that Lula da Silva is a great enthusiast of regional integration and it was him "who in December 2008 called for a Latinamerica and Caribbean summit, which opened the way for CELAC".
He added that at the time the world was already in the midst of a major financial crisis which persists currently and "Lula da Silva warned that there was no way of getting out of the crisis isolated, each of us on our won".
"Times have changed but the statements of Lula da Silva remain strong as ever", pointed out Patriota.