Kingmaker of Argentine soccer stepping down in 2015 after 36 years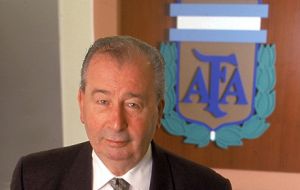 Argentine Football Association (AFA) chief Julio Grondona will step down in 2015 after 36 years in the job, he said on Tuesday. The 81-year-old senior FIFA vice-president, widely criticised for the way in which he has run the AFA, will not seek re-election for the first time since he came to power in 1979.
"I have a mandate that ends in 2015; I'm perfectly well now and must carry on. I have a very important position at international level and that would be lost" Grondona, who was widowed last year, told Argentina's Radio 10.
Grondona, FIFA president Sepp Blatter's right-hand man, is regarded as being mainly responsible for South America's ability to hang on to a potential five qualifying berths at the 2014 World Cup finals not counting hosts Brazil.
Four Conmebol countries will qualify from the South American group and a fifth will play off against an Asian team for another place.
"I'll fulfil my mandate, then younger (men) will come, the new generation of directors to replace me," said Grondona who has presided over Argentina's second World Cup victory in 1986, a record six world Under-20 titles and two Olympic soccer gold medals.
Grondona supported Carlos Bilardo in the face of pressure even from the Argentine government to ditch the coach in a fraught build-up to the World Cup finals in Mexico and was rewarded with the crown won by Diego Maradona's team.
Starting by renewing 1978 World Cup-winning coach Cesar Luis Menotti's contract until 1982, Grondona has appointed nine coaches, two of them twice, including the controversial decision in 2008 to hand the team to Maradona.
He did not renew Maradona's contract after Argentina's 4-0 rout by Germany in the 2010 World Cup quarter-finals when he refused Grondona's demand that he change his coaching staff.
Alejandro Sabella has been Argentina's coach since Sergio Batista's 2011 Copa America failure.
Grondona used to wear a talismanic ring with the words "Todo Pasa" (Everything passes) engraved on it but he took it off after his wife Nelly died. "This (pain) doesn't pass," he said. "I have to carry on with my work, with football and try to get by".