Argentina in the process of quitting from World Bank investment disputes centre
Thursday, January 31st 2013 - 07:20 UTC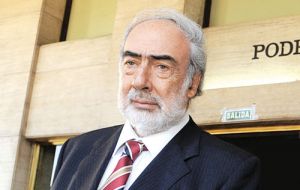 Argentina says it plans to withdraw from the International Centre for Settlement of Investment Disputes, ICSID, a World Bank body designed to arbitrate between states and foreign investors.
This follows similar decisions by several other countries in Latin America like Bolivia, Ecuador and Venezuela,
Eduardo Barcesat, the chief legal advisor to Argentine's Treasury, is working on this project. He says ICSID is quote: "a tribunal of butchers" that only rules in favour of multinational companies. Barcesat believes quitting the Center would be a key move to recover Argentina's legislative and jurisdictional sovereignty.
Argentina currently faces 43 cases at the ICSID with an overall value of 65 billion dollars, most recent of them filed by Spain's Repsol after president Cristina Fernandez announced the nationalization of the Spanish firm's majority stake in the energy giant YPF.
Despite fears of uncertainty predicted by private-sector analysts and opposition sectors, Barcesat believes that a joint strategy by regional allies would not lead to a much-feared loss of investments.
According to officials, the political decision to remain outside the jurisdiction of the World Bank arbitration proceedings will also reinforce Argentina stance against pro-vulture funds (hedge funds) rulings.
In December, the New York federal judge Thomas Griesa favoured the US firm NML Capital in a billionaire dispute over Argentina's defaulted bonds a decade ago.
However, the New York Court of Appeals suspended the sentence. This made President Fernandez accuse 'vulture funds' of quote: "speculating with people's despair and the tragedy of death".