Brazil' overall budget deficit: 2.47% of GDP and primary surplus of 2.38% GDP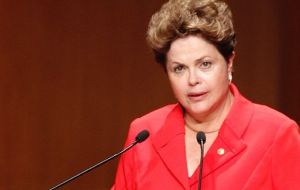 Brazil failed to reach its primary budget surplus goal last year posting a primary surplus of 104.951 billion Reais (53 billion dollars), the equivalent of 2.38% of GDP, according to central bank data released this week, which was below the annual target of 139.8 billion Reais, approx 3.1% of GDP.
For months officials have said Brazil was not going to meet the target after the government handed out billions of dollars in tax incentives last year to revive an economy struggling with high production costs and a fragile global outlook.
As the recovery continues to disappoint the government of President Dilma Rousseff is debating whether to lower the primary surplus target to free up funds for investment in a bid to bolster the economy. However Brazil posted a surplus of 22.252 billion Reais in December after a deficit of 5.515 billion Reais in November.
The government has resorted to alternative accounting methods to meet its primary surplus target on paper. Brazilian law allows the government to exclude some public investments from its accounts to reach the target, though that methodology is not recognized by some foreign observers like the IMF.
In contrast, the government surpassed its primary target in 2011, posting a primary budget surplus of 128.71 billion Reais or 3.11% of GDP.
Treasury Secretary Arno Augustin said earlier in the week that the government was considering making "improvements" to the target, but did not say if that meant the target would be formally lowered. The government would need to introduce new legislation to lower this year's primary goal, which was set at 155.9 billion Reais, or 3.1% of GDP.
Brazil's overall budget balance, which includes interest payments, posted a surplus of 3.15 billion Reais in December from a deficit of 21.84 billion Reais in November, while last year the country posted an overall budget deficit of 108.9 billion Reais, equivalent to 2.47% of GDP.
Even after failing to meet the 2012 target Brazil was still able to cut its debt burden to a new low of 35.1% of GDP in 2012. In a bit over a decade Brazil has been able to nearly halve its debt burden due to the high surpluses and a buoyant economy.