Ecuador: two killed in political rally; Correa leads comfortably re-re-election bid
Tuesday, February 5th 2013 - 16:51 UTC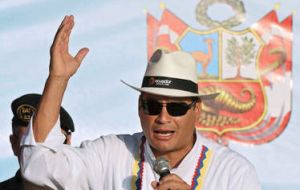 A campaign rally for Ecuador's president Rafael Correa turned deadly Monday night when a man stabbed and killed two people, state media reported. At least four others were injured at the event that President Correa was expected to arrive at moments later, the state news agency ANDES said.
ANDES posted a video showing a man apparently stabbing victims at random in a crowd of more than 100 people in the town of Quininde, at the northern province of Esmeraldas. Some in the crowd tried to stop the attacker, but he ran away.
Correa called the attack against his supporters from the Alianza Pais movement "a tragedy". Interior Minister Jose Serrano said a suspect has been detained.
"The national police proceeded to capture the suspect of these events. (But) we can not say, absolutely, that the person who is detained at this moment is the author of the unfortunate event," Serrano told reporters.
ANDES reported that the president suspended "all political acts". Correa is running for an unprecedented third consecutive in elections scheduled for February 17 and which according to opinion polls he will win comfortably.
Correa has been in office since 2007 and faces a divided and weakened opposition.
According to Consult Marketing Solutions (CMS), Correa is poised to win on February 17 with 48% of the vote. He is followed by 31% who during the third week of January replied they yet had to decide on a candidate, then those who reject all names in the ballot and finally Guillermo Lasso with 7.98% of vote intention. All the other hopefuls are below 2%.
The CMS poll interviewed 10.788 homes in the whole of the Ecuadorean territory.
Other public opinion polls have President Correa winning by an even greater margin since they estimate he could garner 58% to 60% of votes cast.
CMS also pointed out that 72.67% of those interviewed said they are willing to vote for the full straight party vote of Correa's Alianza Pais movement.