Very poor year for Argentine pears and apples exports last year; 2013 prospects improving
Wednesday, February 6th 2013 - 05:38 UTC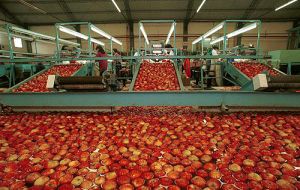 Brazil's high fruit demand didn't prevent the general collapse of Argentine export of pears and apples. The exchange rate lag was a determining factor in this trading debacle, but better prospects are expected for 2013.
The National Health and Quality Agricultural Food Service (SENASA) released official statistics of 2012 total pear and apple exports, despite Brazil's strong demand for the Argentine fruits, it turned out to be one of the worst seasons in recent decades both in the amounts of fruit exported and foreign income perceived.
Apple exports totalled 482.4 million dollars in 2012. A value that reflects a close to 22% decrease when compared to the consolidated sales in the previous year. According to statistics released by SENASA, exports were somewhat higher than 530.000 tons, 26% below than what was achieved in 2011.
Argentina estimates the loss of income to have reached 135 million dollars because of the poor exports. According to experts and traders the exchange rate lag was a determining factor in this debacle.
However as reported by Agro Valley, prices are reaching new highs in Europe this season and there is hope that the arrival of the southern hemisphere fruit to overseas markets does not alter this positive scenario.
Pears and apples quotations, both in Europe and in Russia, have experienced an average increase of 20% when compared to the previous year.
Most regional companies surveyed say they are increasing their programs compared to the ones they shut down throughout the 2012 season. This certainly creates great expectations for the overseas-destined fruit, which has had it rough for the past three seasons.
"We expect a strong recovery in exports to Europe and Russia this year. Fruit prices in these destinations are really important, we can't miss this opportunity and should take advantage of it "said a senior Argentine official.
Meanwhile, companies are cutting deals with producers at higher prices than in the previous season. Some say up to 30 cents of a dollar for the pear, the fruit most demanded by exporters.