Bank of England next governor favours "flexible inflation targeting"
Thursday, February 7th 2013 - 19:32 UTC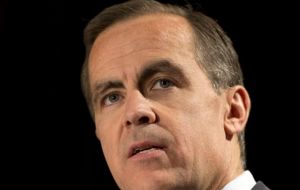 Bank of England has chosen not to inject any more money into the economy, leaving its quantitative easing (QE) programme at £375bn. The Bank also left interest rates unchanged at 0.5%.
Incoming Bank governor Canadian born Mark Carneynk has said he is open to reviewing the UK's monetary policy framework. The Bank of England sets interest rates to achieve a certain level of inflation, but some believe its remit should include focusing on growth.
The Bank has a 2% target for inflation on the consumer prices index (CPI) measure, and has leeway of one percentage point either side of that.
Mr Carney, who replaces Sir Mervyn King in July, told a panel of MPs on Thursday: "Flexible inflation targeting, in my opinion, is the most successful monetary policy framework that has been in existence. And so the bar for change to that framework, the overall framework, is very high.
"But I would note that there seems to be an appetite for some debate about what exactly the framework is, and what alternatives could be to it, and that should be encouraged."
On Wednesday, the Organisation for Economic Co-operation and Development (OECD) said the Bank should consider injecting more money into the economy if growth remains weak. However, some policymakers have questioned the effectiveness of QE - which involves the central bank pumping billions of pounds into the financial system, creating money to buy back government bonds.
The UK economy shrank by 0.3% in the final three months of 2012, and the Bank of England's Monetary Policy Committee (MPC) said it had taken that into account at its most recent meeting.
"The committee discussed the appropriate policy response to the combination of the weakness in the economy and the prospect of a further prolonged period of above-target inflation," it said in a statement.
"It agreed that, as long as domestic cost and price pressures remained consistent with inflation returning to the target in the medium term, it was appropriate to look through the temporary, albeit protracted, period of above-target inflation."
Inflation has remained above the Bank's 2% target since the end of 2009.
The Bank added: "The MPC remit is to deliver price stability, but to do so in a way that avoids undesirable volatility in output. The committee judged that its policy stance was fully consistent with that remit.
"The committee agreed that it stood ready to provide additional monetary stimulus if warranted by the outlook for growth and inflation."
The National Institute for Economic and Social Research (Niesr) estimates that UK economic output was unchanged in the three months to January. Niesr, which correctly predicted the 0.3% fall in output in the three months to December, expects annual growth of 0.7% this year and 1.5% in 2014.