Venezuela devalues currency 32% to help cut 11% of GDP fiscal gap
Saturday, February 9th 2013 - 09:32 UTC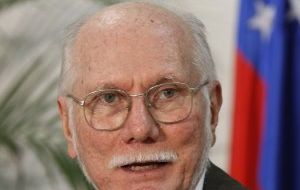 Venezuela devalued its currency for the fifth time in nine years as ailing President Hugo Chavez seeks to narrow a widening fiscal gap and reduce a shortage of dollars in the economy. The new exchange rate falls by 32% to 6.3 Bolivar per dollar starting Feb. 13, Finance Minister Jorge Giordani told reporters in Caracas.
A spending spree that almost tripled the fiscal deficit last year helped Chavez, 58 win a third six-year term. The devaluation can help narrow the budget deficit by increasing the amount of Bolivar the government receives from oil exports. Chavez ordered the move from Cuba, where he is recovering from a fourth cancer surgery, Giordani said.
Venezuela's fiscal gap widened to 11% of GDP last year from 4% in 2011, according to Moody's Investors Service.
"This isn't a change that was done for fiscal reasons," Giordani said. "We have sufficient revenue but we need to adjust the accounts. We need an increase in efficiency and efficiency means spending less."
Annual inflation accelerated to 22.2% in January, the fastest pace in eight months, led by a jump in food prices. Prices climbed 3.3% in January after rising 3.5% in December.
In the black market, the Bolivar weakened 6% to 19.53 Bolivar per dollar, according to Lechuga Verde, a website that tracks the rate. Venezuelans use the unregulated credit market because the central bank doesn't supply enough dollars at the official rates to meet demand.
However the government will keep the currency at 4.3 per dollar for certain imports that were ordered before Jan. 15, Giordani said. The central bank-administered currency market known as Sitme that traded at 5.3 Bolivar per dollar will be eliminated. The market had been used by some importers.
Chavez has not been seen or heard from since he underwent a fourth surgery for an undisclosed type of cancer Dec. 11. Before travelling to Cuba, Chavez anointed Vice President Nicolas Maduro his successor, urging Venezuelans to vote for the 50-year-old former bus driver and labour union leader should he die or step down because of his health.
"We've got to do more with less," Maduro said on state television before the devaluation was announced.
Former opposition presidential candidate Henrique Capriles Radonski said the measure "mocked Venezuelans," and criticized the government for attempting to hide the impact of the devaluation by announcing it the day before the annual carnival holidays.