Standing ovation in Washington for youth orchestra from Uruguay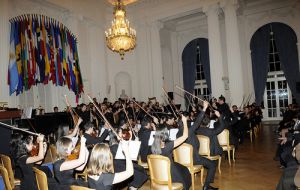 A Youth Orchestra from Uruguay which performed in the Hall of the Americas at the headquarters of the Organization of American States (OAS) in Washington DC received a standing ovation.

"Today you are the ambassadors of the culture of the Uruguayan people, thank you very much for filling us with joy and enthusiasm," said the Permanent Representative of Uruguay to the OAS, Milton Romani.

The concert was attended by the Secretary General of the hemispheric organization, José Miguel Insulza; the Ambassador of Uruguay to the United States, Carlos Pita; the Executive Director of the Inter-American Development Bank on behalf of Uruguay, Paraguay and Bolivia, Marcelo Bisogno; ambassadors from several countries of the region and about 200 people, who underlined the talent displayed by the young musicians.

The nearly 70 Uruguayan musicians are part of the Uruguay System of Youth and Children's Orchestras, which is part of a social action program for music that is expanding throughout Uruguay.

The program performed by the Youth Orchestra included classical music, baroque dance, tango and candombe, a music that has its origins in the Afro-Uruguayan community.

Before their presentation at the OAS headquarters, the Uruguayan Youth Orchestra performed a series of concerts in Panama, and in the US cities of Miami and New York.