Apple fighting to recover "iPhone" trademark registered in Brazil by local company
Friday, February 15th 2013 - 05:40 UTC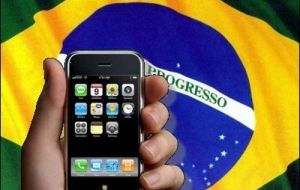 Apple Inc, which lost the rights to its iPhone trademark in Brazil this week, is challenging the ruling by Brazil's copyright regulator to prevent local firm Gradiente Eletronica SA from using the "iphone" brand name.
The regulator, Inpi, (Institute of Intellectual Property) ruled on Wednesday that the rights to the trademark in Brazil belong to Gradiente, prompting California-based Apple to request that the decision be reviewed in Latin America's largest market.
Consumer electronics maker Gradiente had filed its request to use the "iphone" brand in 2000, seven years before Apple launched its smartphone, but received approval to use the trademark only in 2008.
Now, in order to keep its trademark rights, Gradiente will need to prove to the regulator in the next 60 days that it made use of the trademark between January 2008 and January 2013, Inpi said late on Wednesday. Brands in Brazil must be developed within 5 years of gaining approval.
According to BBC News, "Apple had argued that it should have been given full rights since Gradiente had not released a product using the iPhone name until December 2012."
Apple has long been selling the iPhone in Brazil, which is the largest market in Latin America. Under the ruling, the Cupertino-based company can continue to sell its popular smartphone in the country. that INPI's decision applies to handsets only. As such, it doesn't take away Apple's exclusive rights to use the iPhone name elsewhere IGB Eletronica SA, a company formed after the restructuring of Gradiente, launched its "iphone" line of smartphones last December.
An Inpi spokesman had anticipated Apple can either take the case to court or negotiate an out-of-court settlement with Gradiente. In an interview with Bloomberg last week, IGB Chairman Eugenio Emilio Staub said, ""We're open to a dialogue for anything, anytime … we're not radicals."