Falklands issue collection of stamps to commemorate March Referendum
Friday, February 15th 2013 - 18:48 UTC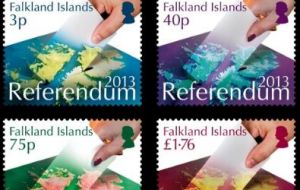 A collection of stamps to commemorate the Falkland Islands Referendum, due to take place on March 10 - 11, was released on Friday in Stanley. The four stamps have values of 3p, 40p, 75p and £1.76p. The colourful stamps show an image of a hand inserting a vote into a ballot box which carries a design displaying an outline of the Falkland Islands.
The accompanying souvenir sheet with a value of £3 consists of the same design but also shows the actual question in the border together with the statement "A peoples' right of self-determination is a fundamental modern democratic right".
The stamps were designed by Andrew Robinson and the printer Cartor Security Printing with a lithography process.
At the March referendum Islanders will vote on their political status and future, an event that will be followed by observers from different countries and impressive media coverage.