Germany and France poor performance plunge Euro zone into recession
Friday, February 15th 2013 - 05:34 UTC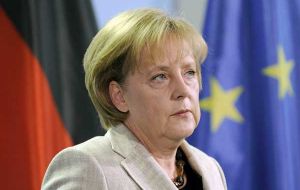 The Euro zone slipped deeper into recession in the last three months of 2012 after its largest economies, Germany and France, shrank markedly at the end of the year. It marked the bloc's first full year in which no quarter produced growth, extending back to 1995.
Economic output in the 17-country region fell by 0.6% in the fourth quarter, the EU statistics office Eurostat said on Thursday, following a 0.1% drop in output in the third quarter. The drop was the steepest since the first quarter of 2009. For the year as a whole, GDP fell by 0.5%.
Within the zone, only Estonia and Slovakia grew in the last quarter of the year, although there are no figures available yet for Ireland, Greece, Luxembourg, Malta and Slovenia.
The big economies set the tone. Germany contracted by 0.6% on the quarter, official data showed, marking its worst performance since the global financial crisis was raging in 2009. France's 0.3% fall was also slightly worse than expectations.
Worryingly for Berlin, it was export performance, the motor of its economy that did most of the damage although economists expect it to bounce back quickly.
"In the final quarter of 2012 exports of goods declined significantly more than imports of goods," the German Statistics Office said in a statement.