Venezuelan government releases pictures of Chavez next to his daughters
Friday, February 15th 2013 - 22:56 UTC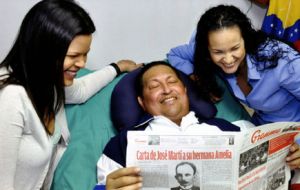 Venezuelans got the first glimpse in more than two months of their ailing president Friday in a series of photos the government released in a televised announcement. In the photos, Hugo Chavez is lying on a blue pillow, flanked by his two daughters, while he reads the Cuban official newspaper Granma. He is smiling, and his face looks a little swollen.
In the weeks since having cancer surgery on December 11, officials have been criticized for giving vague, sometimes contradicting updates on the president's health. Chavez, who has shown his strength after past surgeries by calling in to speak on state television, uncharacteristically has not been heard from or seen.
Chavez is temporarily having difficulty speaking after doctors inserted a tracheal tube, Venezuelan Information Minister Ernesto Villegas said.
"Two months after a complicated post-surgery period, the patient remains conscious, fully intellectually aware, in thorough communication with his governing team and on top of the fundamental duties of his post," Villegas said.
A respiratory infection that the president suffered has been controlled, but he still has some "insufficiency" in his breathing, Villegas said.
The photos were taken Thursday evening at the Cuban hospital where Chavez is being treated, the minister said.
Chavez's allies maintain that he's running his country from Havana, while critics say that the country is in limbo without a leader. Chavez's lengthy absence from Venezuela hasn't stopped his government from making some significant changes.
This week, the country devalued its currency, creating fear among some Venezuelans that the move would mean a sharp spike in the cost of imported goods. The decision came straight from Chavez, officials said.
Speaking to the Telesur network, Venezuela's minister of science, technology and innovation (and son in law), Jorge Arreaza, said Chavez is able to communicate even if he has some difficulty speaking.
"He can communicate," Arreaza said. "He writes, he can be understood. It's not the voice he is known for, but he can communicate."
Chavez's voice difficulties are "reversible," he said.