Argentina supplies Antarctic base by air with contracted Russian aircraft
Saturday, February 16th 2013 - 20:25 UTC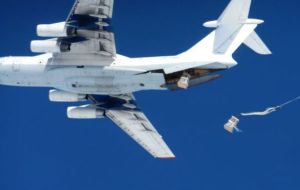 The Argentine Ministry of Defence announced it had successfully finished the supply of provisions to the Antarctic Base Belgrano II, the most austral of the country's outposts. The two-week operation in nine legs, depending on weather conditions, was done by air parachuting provisions.
"Although the re-supply of the Base Belgrano II is an annual operation, during the summer months of the Antarctica Campaigns, every two years the provisioning demands greater volumes of food, fuel and other inputs to ensure an ample supply for all the staff working in the base", said a Defence release.

In that framework and with the purpose of complying with the support logistics "the Ministry contracted for the job a Russian aircraft, Ilushyn given its ample load capacity and autonomy" adds the release.
"The load is parachuted from the aircraft and has a 50 centimetres shock-absorbing lining which helps to mitigate the impact as well as the deep snow blanket". This is followed by special snow and ice track vehicles waiting to load and transport the provisions to the Base.
Currently there is a permanent staff of 19 in the Argentine base, most of them involved in scientific research, under the command of Army Captain Mario Kuntzler.
The release also points out that for this Antarctic campaign, the 109th for Argentina, a Joint Operational Command from the three forces coordinates all supply operations to all Argentine bases and stations, as well as the logistics support to the scientific activities in the outposts.
Finally, Argentina currently has six bases involved in all year round activities in the Argentine Antarctic Sector and they are: Orcadas, Marambio, Carlini (exJubany), Esperanza, San Martín and Belgrano II; plus seven stations of seasonal acitivities: Brown, Matienzo, Primavera, Cámara, Melchior, Petrel and Decepción.