Chavez in Caracas military hospital; presidential oath ceremony expected
Monday, February 18th 2013 - 15:44 UTC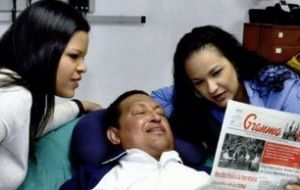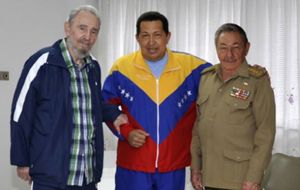 Venezuelan President Hugo Chavez is resting in Caracas military hospital after his Monday early dawn return from Cuba where he spent ten weeks recuperating from cancer surgery. However contrary to other occasions no video or pictures were shown and officials confirmed he has a tracheal tube which limits speech.
"We have arrived back in the Venezuelan fatherland," Chavez announced via Twitter after arriving in Caracas. "Thank you, my God! Thank you, my beloved people!"
Chavez flew in from Havana at 2:30 a.m. and was transported to the Carlos Arevalo Military Hospital, Vice President Nicolas Maduro told Venezuelans on state television. The president was accompanied on his flight back home by Maduro, his daughter Rosa Virginia, his brother Adan and the president of the National Assembly, Diosdado Cabello.
The president's surprise arrival appeared designed to staunch rising indignation by opposition leaders critical of the secrecy surrounding Chavez's health and doubtful that he was running the day-to-day affairs of state, as his ministers insisted.
President Chavez has undergone four surgeries in Cuba since June 2011, but the government has yet to say what kind of cancer he has had or detail his prognosis.
The outsize role that Cuba and the Castro brothers government have played in the long saga, with Fidel Castro even delivering news about Chavez's condition to Venezuelans, had led to a spirited protest in recent days by university students outside Cuba's embassy in Caracas.
But on Monday, the president's arrival led to fireworks in Caracas and prompted the president's die-hard supporters to gather in the city's main square, the Plaza Bolivar.
"Viva Chavez! Viva the Revolution! Viva the people of Venezuela!" yelled Tania Diaz, an anchor on state television, as she and other crew members celebrated on air.
The president's return means that he can at last take the oath for the fourth term he won in the October presidential election. After that victory, Chavez started to drop out of the public eye, and on December 10 he flew to Cuba for a surgery that took place a day later.
For 67 days, he was not seen or heard from, as his ministers delivered a mix of vague news about his condition. Chavez missed his January 10 inauguration, though the Supreme Court had ruled that he could be sworn in at a later, unspecified date. The president did not issue any messages via his Twitter account, nor did the government release any photos or video of him while he was in Cuba.
Then, on Friday, the first photographs were released, showing Chavez lying in a hospital bed, flanked by two of his daughters and holding up a copy of Granma, the Cuban state newspaper.
Chavez was using a tracheal tube, Information Minister Ernesto Villegas reported, but he was "conscious, with his intellectual functions intact."
Villegas also hinted that Chavez would overcome his "delicate circumstances sooner rather than later to accompany his people on the path toward new victories."
With Chavez's arrival in Caracas, Villegas said, "there can be no doubt about the democratic institutions working in Venezuela."
Still, unlike Chavez's previous triumphant returns from Venezuela during his ordeal with cancer, this one did not come with video or photographs of the president. The president, though, did offer a series of messages via Twitter.
"I am clinging to Christ and trusting my doctors and nurses," he president wrote. "Onward toward victory always!! We will live and we will triumph!!"
The president also thanked Cuban President Raul Castro, his older brother, Fidel, and the Cuban people for showing "so much love."