FIFA committed to goal-line technology at the 2014 World Cup in Brazil
Thursday, February 21st 2013 - 01:40 UTC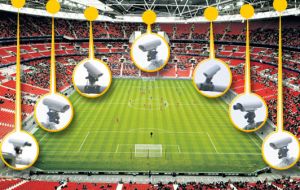 FIFA said it is committed to using goal-line technology at the 2014 World Cup in Brazil, and could have four systems competing for selection. FIFA said it is now seeking tenders from companies which want their system to be used at the Confederations Cup in June and next year's World Cup.
FIFA President Sepp Blatter insisted on giving World Cup referees high-tech aids to rule on disputed goal-line incidents after seeing England midfielder Frank Lampard have a clear goal denied against Germany at the 2010 tournament in South Africa.
The English Premier League also said that plans are on course to introduce goal-line technology by the start of the new season in August.
The decision by FIFA was expected once its rule-making panel, known as IFAB, decided last July to approve goal-line technology at competitive matches after two systems passed extensive tests. The camera-based Hawk-Eye system and GoalRef, which uses magnetic sensors, were used at the Club World Cup in Japan in December. Those two systems were expected to compete for World Cup duty, though two competitors are making late entries in the contest.
FIFA said two German systems have completed tests and could soon be approved for use. The companies are not being formally identified until licensing is approved.
Hawk-Eye is already used in tennis and cricket. GoalRef uses magnetic sensors in the goalposts to track an "intelligent" ball, made by Danish company Select. Both systems relay information within one second to the referee's wristwatch. Both passed all pre-game tests in Japan but were not called upon to determine a goal.