Japan posts huge January trade deficit: weak Yen, energy bill and dispute with China blamed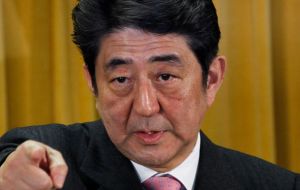 Japan's trade deficit soared to a record 17.4 billion dollars on energy imports, a weaker Yen and the territorial dispute with China, the country's main trade partner. Exports climbed 6.4% in January from a year earlier, the first rise in eight months while imports increased 7.3%, the Finance Ministry said in Tokyo.
Weakness in the Yen that aids exporters also mean the country pays more to import fossil fuels needed as nuclear reactors stand idle after the Fukushima crisis in 2011. That burden may encourage the government to limit the currency's slide, with Deputy Economy Minister Yasutoshi Nishimura signaling in a Jan. 24 interview that the government may prefer a Yen stronger than 110 per dollar.
Nearly 80% of Japan's imports were denominated in foreign currencies in the second half of last year, compared with about 60% of exports, according to the Finance Ministry.
Exports to China rose 3% from a year earlier, the first increase since May, while those to the U.S. gained 10.9% and shipments to the European Union fell 4.5%.
The Finance Ministry said that the trade balance tends to be weaker in January as the New Year holiday slows production and crimps exports.
Japan's government predicts that trade with China, the nation's biggest export destination, will recover this year after falling in 2012 for the first time in three years because of a territorial dispute between the nations and a slowdown in the Chinese economy.
Japan's car exports declined 8% from a year earlier, while iron and steel shipments increased 24.4%. Imports of liquefied natural gas rose 1% from a year earlier to the highest since at least May 1999. The average price paid by Japan for a metric ton of natural gas has risen almost 17% in Yen terms since November.
The Yen has fallen more than 13% against the dollar in the past three months as Prime Minister Shinzo Abe calls for aggressive monetary easing to end deflation.