Nationalized airport operators demand 90 million dollars from Bolivia
Thursday, February 21st 2013 - 01:47 UTC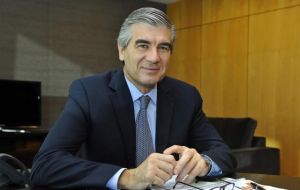 The Spanish infrastructure company Abertis said it was seeking 90 million dollars from Bolivia in compensation for the nationalization of its subsidiary Servicios de Aeropuertos Bolivianos (Sabsa). Abertis was also considering other possible legal claims, its chief executive Francisco Reynes said.
Bolivian President Evo Morales moved Monday to nationalize Sabsa, 90% of which is owned by Abertis and 10% by the Spanish airport management company Aena. Sabsa manages the South American country's three most important airports.
The authorities in La Paz said Sabsa had failed to deliver the investment it had promised to improve air terminals in Bolivia, even though it posted more than 2 million dollars per year in profits.
"The relevant compensation will be paid in 120 days," Morales said in the central Bolivian city of Cochabamba.
Bolivia had frozen airport tariffs in 2001 while raising salaries by 140% since 2005, a situation which had caused losses for Sabsa, Reynes said.
Spanish Foreign Minister Jose Manuel Garcia-Margallo said Madrid will "mobilize" all national and European resources against Bolivia's "aggression."
The Morales government has nationalized Spanish firms in the past. In May, he expropriated the Bolivian subsidiary of Red Electrica, and in December, he did the same with four subsidiaries of Iberdrola. Both companies are energy suppliers.
"Every time (Morales) runs into an internal difficulty, he expropriates a foreign company," Garcia-Margallo complained.
Spain does not question Bolivia's right to nationalize a company in a sector it considers vital for its economy, but it had to be done according to "established proceedings" and paying "an adequate compensation," the minister said.
The Foreign Ministry said on Monday that Spain will "rethink bilateral relations as a whole".