Royal penguin being cared in New Zealand after stranding 2.000km from Antarctica
Thursday, February 21st 2013 - 05:46 UTC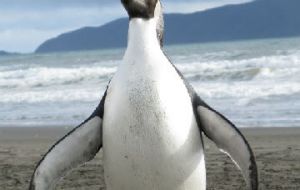 A royal penguin is being cared for at a New Zealand zoo after being found stranded on a beach 2,000km from its Antarctic home. The young male bird, which was dehydrated and starving, is thought to be only the fourth royal penguin to wash up there in more than a century.
He is believed to have come from a breeding colony in the sub-Antarctic Macquarie Island. Vets said the bird, dubbed Happy Feet Jr, may have been drifting for a year.
Lisa Argilla, a vet at Wellington Zoo, said the penguin had possibly struggled to find enough food or had had problems hunting and had come ashore as he needed to go through his seasonal moulting.
He was found on Tora beach, on the coast to the south of Wellington, on Sunday.
"It's very weak, doesn't want to stand. It's making very small progress every day but it's still in critical condition," Ms Argilla told the TVNZ channel.
She said his kidneys were not functioning properly, adding: "Hopefully we can reverse that, feed him up and bring him back to good health but it's touch and go at the moment."
If he recovered, she said, he would be released to make his way home.
"They're amazing at navigation so that shouldn't be a problem for him," she said.
Last year, an emperor penguin, the original Happy Feet, made headlines when he appeared on New Zealand's shores.
He had surgery to remove 3kg of sand from his stomach, which he is thought to have eaten thinking it was snow, before being released with a tracking device. But he disappeared soon after and was believed to have been eaten. (BBC).-