Colombia with enough oil for eight years at current rate of consumption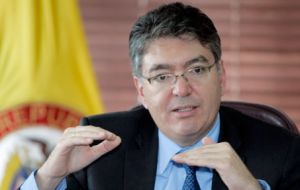 Colombia only has enough oil to last another eight years and must urgently step up exploration efforts to locate more reserves, Finance Minister Mauricio Cardenas said.
"We have oil for 8.1 years and we know that's not much time to sustain a pace of 1 million barrels per day. That's why we need to find reserves quickly," Cardenas told RCN Radio.
The Finance minister said, however, that Ecopetrol posted strong results last year.
"Ecopetrol's results last year were very good in the view of any analyst, but a company like that always has very significant challenges and one of them is increasing reserves, which is perhaps the thorniest one," adding that "to increase reserves you have to explore and to explore you have to invest".
Regarding the prospect of new oil finds, Cardenas said no new possibilities as big as Cano Limon or Cusiana, located in the eastern provinces of Arauca and Casanare, respectively, have emerged.
"Finding fields like those is very difficult. None has shown potential of that magnitude thus far. There are several (fields) with some minor potential and they add up. And that's better because this isn't about winning the biggest prize, it's about winning several secondary prizes," Cardenas said.