Controversy over Spain's recovery 'round the corner' and 'the next Germany' forecast
Friday, February 22nd 2013 - 16:03 UTC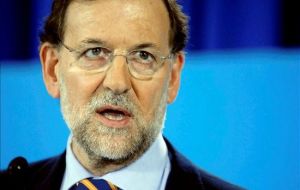 US multinational financial service corporation Morgan Stanley has declared that Spain has already got over the worst of the economic crisis and augurs that it "will become the next Germany" in the European Union. This however is challenged by the Financial Times, Goldman Sachs, Citibank and the IMF.
MS argues that this could materialise as a result of the reduction in labour costs in part due to the recession, in part as a result of the sweeping reforms introduced by the conservative Partido Popular of President Mariano Rajoy and because of the increase in national exports.
In an economic report, MS analysts declare that this idea together with a German economic dip has been gathering credence in the markets of late, and that there is more than a mere possibility of this happening. MS says that the worst is over not just for Spain but for the entire Euro-zone as a whole.
The bank document states that despite the cases of generalised corruption which have hit Spain's political establishment, and which are currently focused on the ruling party, "no one believes they are sufficient enough to provoke a change of government or to modify the economic reform policies that are already under way."
The greatest risks identified by the bank which they concede are improbable, is that the Governments of Washington, Berlin, Paris, Rome or Madrid make irretrievable mistakes; otherwise economic recovery will be a reality toward the end of 2013 or 2014, it says.
But the optimism about Spain by Morgan Stanley is not shared by the prestigious Financial Times which soon poured cold water on the prediction. According to the publication, macroeconomic data available do not back any immediate bright outlook for Spain.
"Macroeconomic data make it difficult to envisage a point of recovery for Spain as toward the end of the year GDP contracted at a higher rate than in the previous three years, while insolvencies increased in the last quarter of 2012 at the fastest rate since the beginning of the crisis; and without visible signs of an improvement in the unemployment situation which now affects around six million persons".
The newspaper states that improved market confidence is not borne out by macroeconomic data or by long term economic forecasts.
Goldman Sachs, the International Monetary Fund and Citibank have also made sombre predictions about a prolonged recession affecting Spain.