Falklands confirms £ 26m fishing and oil 'windfalls' only for the Consolidated Fund
Friday, February 22nd 2013 - 18:25 UTC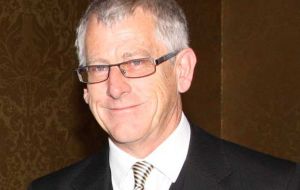 The Falkland Islands government at a public meeting defended their position of not including in the annual budget what they described as 'windfalls' from fishing and oil and instead adding the 'exceptional" excess revenue to the Consolidated Fund.
Responding to a demand from a member of the public to justify the Medical Services Tax (MST) when £26 million had been added to the Consolidated Fund over the past two financial years, Member of the Legislative Assembly and Chair Dick Sawle said the £26 million had arisen from a number of positive budget variances, primarily fishing licences, in excess of projected budgets, of £15M and £17M from oil exploration related tax receipts.
"However, what these mask is an underlying operating deficit over the last two years of £6 million. Government have long maintained a policy of not relying on the volatile revenues from Illex squid and have used these as 'windfalls' as they are received, rather than use them to support the underlying operating budget", said MLA Sawle.
He added the revenues received from oil exploration had been transferred to a separate part of the Consolidated Fund to be known as the Oil Development Reserve, "effectively an earmarked reserve for planning purposes."
The Falklands lawmaker said the receipts were also non-recurring and could not yet be relied on to continue into the future.
MLA Sawle said: "The Oil Development Reserve is a potential precursor to a formal Sovereign Wealth Fund however the first call on these monies will be to ensure that the required infrastructure and capacity are in place within the Falklands to ensure the further development of oil."
He explained that the government's continued budget policy was to maintain, "at least a balanced budget and as mentioned earlier, recent years show an underlying recurring deficit despite some beneficial windfalls."
MLA Sawle added that the purpose of the MST was to support the ongoing operating budget: "This continues to be the case and as an example the Health budget increased by 12% over the two year period mentioned."
MLAs Summers, Elsby and Hansen however went on to note their disapproval of the MST.
MLA Summers said he had at the last budget proposed that MST rates be reduced to zero but this had not been accepted and that he would raise the issue again at the next budget. MLA Elsby commented that the tax hit the poorest paid in the community. (PN).-