Brazil and Nigeria sign accord to boost trade, investment and energy cooperation
Monday, February 25th 2013 - 11:21 UTC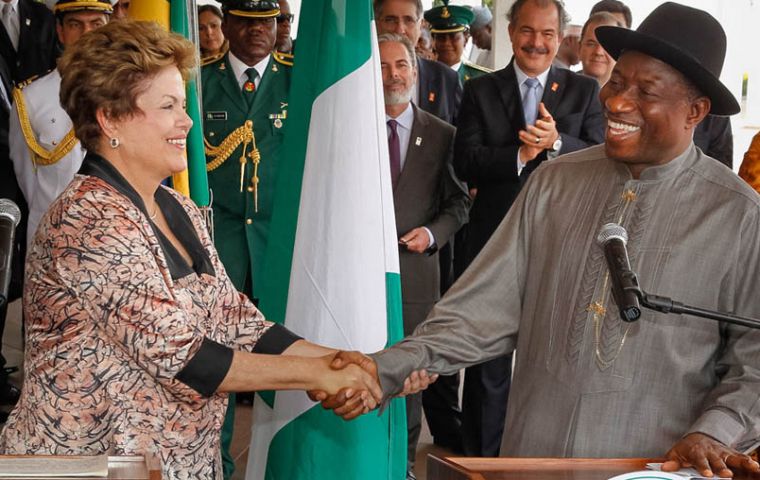 Brazil's President Dilma Rousseff met with Nigeria's President Goodluck Jonathan in Abuja on Saturday to discuss boosting trade and investment between the two countries, particularly in the energy sector and cooperation in several other fields. The brief visit was sufficient for the two presidents to sign an ambitious memorandum of understanding.
The visit by President Rousseff, who flew into the Nigerian capital from Malabo, Equatorial Guinea, where she attended the third Africa-South America (ASA) Summit, was at the instance of President Jonathan, who extended an invitation to her during the UN Conference on Sustainable Development in Rio de Janeiro, Brazil, last year.
While in Nigeria, the Brazilian leader held two hours of talks with President Jonathan at the Aso Rock President Villa, during which both leaders signed the MOU setting up a Bi-National Commission to expand trade, boost investments and strengthen the 56-year-old diplomatic ties between Nigeria and Brazil.
The accord also pledges to boost cooperation on energy, aviation, agriculture, electricity, infrastructure development and defence.
"The main thing that will interest you is that we signed an MoU that will lead to a setting up of Bi-national Commission, that is a body that will be meeting from time to time to see in which areas the countries will be interacting. The Vice Presidents of both countries will seat on the commission which will be coordinated by the Ministry of Foreign Affairs,' President Jonathan told a joint press conference addressed by both leaders.
For her part, President Rousseff said: 'We want to also establish our partnership covering hydro-electricity and electricity in general. Given Brazil's experience in electricity and our expertise in building a wide range of transmission system, we therefore wish to broaden our partnership in this regard'.
"Petrobras has been producing oil in Nigeria for 14 years, and expects to increase production" said President Rousseff. "Petrobras expects to establish an ever-stronger presence here in Nigeria".
Both leaders also called for an urgent reform of the UN Security Council to make it more democratic and reflective of the changes in the international architecture.
Nigeria is Brazil's main trading partner in Africa, on the account of the African nation's crude oil export. Trade between the two countries grew from 1.5bn dollars in 2002 to over 9bn in 2012, but it is largely tilted in favour of Nigeria which exported 8.4bn of crude oil to Brazil in 2011, compared with the 1.2bn in total imports from Brazil, according to figures provided by the Nigeria-Brazil Chamber of Commerce and Industry.