Brazilian clergy lobby for Sao Paulo archbishop as the next Pope
Monday, February 25th 2013 - 05:54 UTC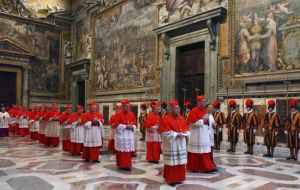 Catholicism in Latin America is "lively and dynamic," Brazilian Cardinal Raymundo Damasceno Assis said on Sunday, suggesting that the church look to Latin America for leadership. Damasceno is one of the 117 "cardinal electors" that will participate in the upcoming conclave to elect a new pope, following Benedict XVI announcement he is stepping down at the end of the month.
The 76 year-old Damasceno, who is also head of Brazil's Conference of Catholic Bishops, said that, unlike in Europe, the faith is strong in Latin America.
"The church in Latin America is enjoying a very special moment, with strong missionary enthusiasm" said Damasceno adding that this enthusiasm serves to bolster flagging interest for Catholicism in Europe, a region "undergoing a very intense process of secularization and that suffers from a crisis of religious vocations."
Openly campaigning for the papacy is taboo, but cardinals discreetly drop hints about their preferences.
Brazilian bishops believe that it is "fundamental" for the next pope to be a person who is a pastoral figure, Damasceno said "open to dialogue with the contemporary world and sensitive to social problems".
Damasceno, himself a candidate, is one of five Brazilians who will be at the conclave. They include Odilo Scherer, 63, who was ordained by Benedict in 2007 and heads the five million strong archdioceses of Sao Paulo, and Salvador archbishop Geraldo Majella Agnelo, 79.
Brazil has the most Catholics in the world, but in recent years evangelical and Protestant churches have made considerable inroads, especially among the poor.
From a purely statistical perspective, there's a low chance that a Brazilian pope will emerge from the conclave. Of the 117 eligible cardinals, only five originate from Brazil - although around 125 million Catholics live in the country.
The United States, with 70 million Catholics - including many who migrated from Latin American countries - has 11 candidates. Meanwhile the majority of cardinals - 61 - are from Europe.
However, there is one Brazilian among the five in the conclave who is considered a favorite: Odilo Pedro Scherer. Pope John Paul declared the 65-year-old with German roots an auxiliary bishop in Sao Paulo in 2001. Six years later, Pope Benedict named Scherer archbishop of Sao Paulo.
In Brazil Scherer is seen as a conservative who has fought against declining traditional values, and against homosexual union, while in Rome, he enjoys the reputation of being moderate and open.
Behind the longing for a Brazilian pope is a perceived distance of many Brazilian Catholics to Benedict. João de Deus de Carvalho Leal, a priest who shared details about his life in northeast Brazil at the invitation of the German aid organization Adveniat, described the Roman Curia as living in a completely different world.
"We are bound together by belief, but we don't have a special relationship to Benedict," Carvalho Leal said. For the priest from the small town of Oeiras in the northeast Brazilian state of Piaui, evangelism and the fight against poverty go hand in hand.
Carvalho Leal, who linked care of souls with social work, cautioned against Catholicism as being simply a conglomeration of principles and dogma. "A repetition of prohibitions, that's not what we expect from the church," he added.
The alienation of many Brazilians from the Catholic Church is underscored by the numbers: According to the Brazilian statistical agency IBGE, the proportion of Catholics in Brazil decreased from 74% to 64% in the decade from 2000 to 2010. Evangelical churches, in the same time period, increased their membership from 15 to% of the Brazilian population.